It's March! That means Daylight Saving Time and brighter evenings are two weeks away, astronomical spring is three weeks away, and Madness in right around the corner. We had snow on the ground 27 of 28 days in February. There are still piles in parking lots and other areas that were packed up following our big storm two weeks ago. But the last of the snow on most lawns melted Saturday afternoon as we had back-to-back days in the 60s.
The last weekend of February was all about hoops in our house.
---
Kid Hoops
L finished her regular season with two games Saturday. They were originally scheduled to play a morning double-header, but that got adjusted so that they played at 8:00 AM and 7:00 PM. Which is fun.
The morning game was against one of the first place teams in the division. Their shortest girl was taller than our tallest. Their inside player was probably 5'8" and weighed over 200 lbs. She couldn't move very quickly, but she could post, drop step, and calmly tossed perfect passes to cutters when we doubled her. Beast. Our coaches switched to a zone for the first time and it at least slowed them down, but was really just delaying the inevitable.
Somehow we were only down six midway through the second half when their coach got a T. She was a piece of work: a screamer and yeller who stomped up and down the sidelines. Apparently she just got T'd up for being on the court. We hit one free throw to cut it to five, missed the second, then turned the ball over on the inbounds pass.
Our girls faded after that and we managed to lose by just 14.
In the nightcap we were playing a team that got moved up from the 5th grade A league. The league does this to get teams enough games when others are wiped out because of protocol issues. L and her teammates were excited to play fifth graders and end the season on a high note. I told her if the team got moved up, they must be good.
And they were. They were clearly a year-round team, and were well-drilled on both ends. They made our girls look bad in the first ten minutes. It didn't help that we had all ten players and the coaches had to sub often. Somehow we got it together and went in to halftime tied at 10.
The second half was a bit of a shit show. Both teams were playing hard and aggressively. Yet somehow the fouls were 8–3 against us late in the half. Just after a teammate put in a missed L layup to give us our first lead of the game, the outside ref called a shooting foul against us from 30 feet away with about a minute left. Even the other team's parents in front of us turned around and admitted it was a ridiculous call. They hit one of two to tie the game and the next minute was a series of missed chances by both teams.
We missed a shot with just under ten seconds left, they got the board, pushed it hard, and got a shot from the baseline just as the horn blew. Once again the outside ref – from midcourt – called a foul on us. Several of our parents totally lost it. Our best player's older brother, who is a high school player, started screaming at the ref "That's 10 to 3! How can you call that!?!" A few other parents were yelling as well. It was a good time.
They hit one of two to give her team the win.
L says that one of her teammates' parents talked to the ref after the game and claim that he said he was tired and wanted to avoid overtime. I obviously can not verify this actually happened. It seems laughable to admit that. But given the way he called the game – we were behind all but about 30 seconds of the half – it's not totally unreasonable. L made a very good point when she heard this, "If she missed both free throws I bet he would have called a lane violation to give her another shot."
That same parent went back to the archived stream of the game and made a screen shot of the final play. Looks pretty clean to me.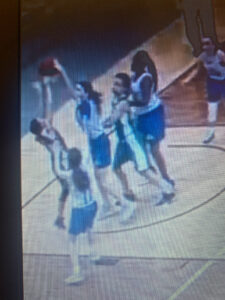 Not only was it 10 fouls to three, but the other team shot 16 free throws to our two. This wasn't West Virginia at Allen Fieldhouse, where all the forces of nature line up against the Mountaineers. Our coaches are pretty mild mannered but I started to wonder if they had done something to piss this one ref off. That same ref who made the last two calls overruled an out-of-bounds call from the opposite side of the court when the opposing coach looked at him and pointed his team's way. Something uncool was definitely up.
What was I doing during all of this? After my sports coordinator experience, I have a hard time getting on youth league refs. They have a hard, shitty job. They get yelled at constantly. I doubt they get paid much. So I did no yelling. But when L got absolutely rocked by a defender with no call midway through the second half, I got up out of my seat in the bleachers and moved behind the bleachers so I could stand on my own. Some of it was so I could pace. Some of it was to avoid the other parents from both teams who were already getting loud. And some of it was just to put space between myself and the referees.
The refs have been frustrating all season. They are all adults, and some take only a mild interest in the game in front of them. Several hold running conversations with refs on neighboring courts while they are supposed to be watching the game in front of them. If there's a more interesting game a couple courts over, you will catch them watching that action instead of the court they are supposed to be managing. Some duos split the court in half, with one never moving past the half court line. I've lost track of how many times a ball has gone out of bounds and the ref five feet away was looking at something else and couldn't make the call. Seems like a lot of them are just in it for socializing and getting a check, rather than helping the kids learn how to play better and giving them a fair chance to win.
The funny thing was that L said the refs they had in the morning game were the best she's had all year. They called more shooting fouls than anyone had called all season, but it also seemed to be a fair whistle that let the girls play but also penalized excessive contact.
Fortunately our tournament is at a different facility, so we should not get those evening refs again. I don't know if it is because of Covid or something else, but L's tournament has a strange format. Her team is in a nine-team division, and rather than giving the first seed a bye and doing a normal 8-team bracket with the remaining squads, the league split the division into two pools. The top four teams play on one side, the bottom five on the other. At first I assumed the winners of each pool would play each other for the championship. But they don't. Whoever wins each mini-tournament will be the champion on their pool.
Honestly, that seems pretty fair because there's a stark difference in ability, talent, and results between the top four and the rest of the division. Not sure why the top teams don't all get a chance to beat a weak team before they play each other, though.
That works out well for L's team because they were in fifth place when the brackets were released.[1] So they get a bye. And they've beaten all four teams in their pool, although one was just a two-point win without our best player. They play this Friday, back-to-back if they win their first game. Hopefully it will be less stressful than the past two weekends have been.
---
KU
WHOOO HOOOOO!!!!
Big win for the Jayhawks Saturday, handing Baylor their first loss of the year. I honestly didn't think they had it in them. But they played their best game of the year – except for shooting the 3 – and took advantage of a Baylor squad that is still trying to find their footing after a long break for Covid. If KU could ever shoot decent from outside again I would get excited about their March prospects. But despite all the preseason evidence that this should be an outstanding 3-point shooting team, I've finally resigned myself to the truth that they aren't, and 3–20 nights are going to be much more common than the 16–37 nights. They just miss sooooo many wide open looks that I can't trust anyone to hit a shot when it matters.
It was great to see Marcus Garrett super energized for maybe the first time all season. He was on a mission to make Jared Butler's life miserable. He hasn't done that much this year. My theory is that he's been constantly directing traffic and covering for his teammates' mistakes, which keeps him from locking down on his guy. I wonder if he's also dialed back his effort just a touch to both stay on the court as much as possible and avoid the injuries that derailed his last two seasons. Even if purely a subconscious choice, it could be a factor. With KU playing awesome team defense of late, that's given him the freedom to be the Marcus Garrett that was national defensive player of the year last season. Another good sign for March.
They closed the Big 12 season winning six of seven, the only loss Tuesday in overtime at Texas, a game they could have easily won were it not for missed free throws late in regulation. Twelve and six in the Big 12 is also impressive, given where they were a month ago.
Playing all 18 games is a huge accomplishment on its own. If I'm looking at this week's list of rescheduled games correctly, Kansas State, Oklahoma State, and Texas are the only other Big 12 teams that will play all 18 games.[2] There's still plenty of time for someone in the program to slip up and ruin the season by forcing a pause in activities during the NCAA Tournament. But I think everyone on KU deserves a lot of credit for handling safety protocols as well as anyone has and both protecting the players while giving them the opportunity to play their whole schedule.