A delayed edition of Jayhawk Talk because Monday's game against Texas Tech was far too stressful. I would complain about the rest of the season being as exhausting as the past week was for KU, but I prefer winning to losing. If that means 12 more games like the last three and a Big 12 title as reward, I guess I'm on board.
I did not watch the game live. Well, 99% of it. L had a game that night so I had to record it. Once we got home, I had some family time, took the trash out, and by the time I sat down to fire up the DVR, the live game was well into the second half in Lawrence. Thanks to skipping commercials, halftime, and then entire possessions in overtime (because I was angry), I actually saw the final 10 seconds or so of the game live. Glad those last 10 seconds ended with a double OT win.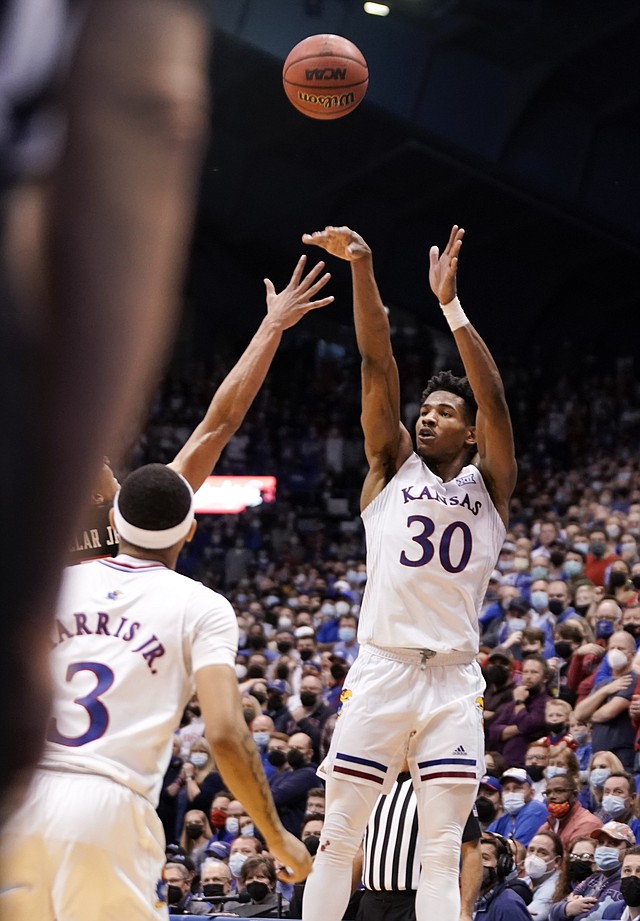 The two big topics after the game were Ochai Agbaji and Remy Martin.[1] Which has been the case for much of the year.
Ochai was a flat-out stud. Yes, he missed four free throws in the final 13 minutes of play, three of which could have ended the game sooner. But dude was balling out. And he hit one of the biggest, most memorable shots in recent KU history. I'll allow the misses if he keeps going for 30+ and/or hitting game winners.
As for Remy, I've tried to stay detached from the Internet outrage about his usage this season. I said early on I expected his arc to be similar to Malik Newman's in 2017–18: it would take him awhile to get acclimated, but it would happen. Remy's knee injury in late December has set that timeline back a bit.
Monday he looked as good as he's looked since he got hurt. Texas Tech just did not have an answer for his speed. He got blocked at the rim several times, but he balanced that with buckets and assists because Tech could not stay with him.
And then he didn't play in the final 15+ minutes of the game.
Listen, I get it. Remy couldn't guard an 80-year-old lady in a walker. He's constantly gambling for steals and putting himself in bad positions, forcing his teammates to cover for him. On a defensively challenged team, that's a problem.
But this was another game when DaJuan Harris was totally overmatched physically. He was pretty much a non-entity on offense, trying about five different versions of his miracle shot against Iowa State, none of which came close to dropping. He got bullied on defense. Nearly every perceived advantage he has over Remy went away against Tech.
In a tight game I understand Bill Self wanting to reduce the unknowns. I guess he figured even if DaJuan couldn't provide much, he also wouldn't make the big mistake like Remy might.
But, still, Remy also had better upside than DaJuan against Tech. And it's not like anyone on KU was guarding well Monday.
The key to this is how the game changed. After Ochai's sweet alley-oop dunk put KU up by 12 with under 7:00 left, Tech began face guarding him and pressuring KU in the backcourt. Once KU got the ball in play, which for some reason they struggle to do, there was only token pressure in the backcourt. But Harris continually took his time getting the ball into the front court, putting no pressure on the Tech D. KU went through a stretch where they either didn't get shots off, or were hoisting prayers at the end of the shot clock. All because Harris was too cautious bringing the ball up. Next thing you knew, the lead was gone.
I think you give Remy a shot in those situations. Let him use his speed to break the press, to maybe get a transition bucket or two, or at least force Tech to scramble on defense. That's when KU was at their best Monday: when they could keep Tech from getting into their base defense and slow the game down. Sure, he might turn it over a time or two. But he also gets you a couple buckets which means this game never gets to overtime.
I have zero insight into what's really going on with Remy. I remain hopeful he and Self will find a way to coexist so that he gets more minutes. If they can't, Self's off-season transfer shopping will have been a total bust, and, aside from having one of the five best players in the country, KU will be basically the same, not-very-athletic team that got run out of the gym by USC last March. Not a recipe for success this March.
---
Well, KJ Adams got some much-deserved love, too. But he was not a prime subject of discussion.  ↩