:07 Seconds or Less – Jack McCallum
The "season inside" schtick is one of the most satisfying sports book tropes available to writers. A reporter embeds with an athlete, team, or even entire sport for a year and relates the inside dope on their experiences after-the-fact. Unless the subject is super boring, the result is usually a compelling read.
I've had this book on my list since it came out back in 2006. I think I didn't get to it because our old library didn't have a copy. I had kept it tucked deep into my Amazon wish list that whole time but was never in the mood to buy it. Then I read this piece a few weeks back, which refreshed my memory of its existence. I looked and – behold! – the Indy library carries it.
Jack McCallum was for years Sports Illustrated's primary NBA writer. During the 2005–06 season, he embedded with the Phoenix Suns, who were challenging the NBA orthodoxy of the moment by playing super fast and shooting tons of 3's. The style resulted in back-to-back conference finals appearances in '05 and '06.
Although McCallum spent most of the season with the Suns, the book focuses on the 40-ish days they were alive in the Western Conference playoffs, ultimately losing the Dallas in six games. He does make little runs back into key moments of the regular season to provide background on players or developments that became important in the playoffs.
McCallum earned near-complete access to the Suns, both within the locker room and the coaches' rooms, and was blessed by a coaching staff that were completely comfortable sharing with him. That makes for a pretty great book, as little of his words are speculation based on things he saw from, say, press row informed by later discussions. He was there when the coaches were struggling to decide how to defend Kobe Bryant or how to handle the moods of Shawn Marion or the minutes of a hobbled Steve Nash.
These insider sports books can have a limited shelf life, as players cycle through their careers and styles change. But as the current NBA owes a great debt to the choices Mike D'Antoni and his staff made over 15 years ago, this book feels like a super useful guide into how the 3-pointer happy league of today came to be.
---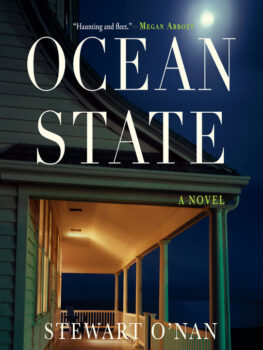 Ocean State – Stewart O'Nan
Once again O'Nan has written a novel that is both beautiful and frightening. He has such a gift for creating characters that are both simply presented yet rich in detail and easy to relate to. Every time I read one of his books, I'm left in awe at the ease with which he accomplishes this.
That's the beautiful part. The frightening part is this novel is, mostly, centered on teenage girls, the horrible things they can do to each other, and how those behaviors can have effects that linger into adulthood. Which is deeply unsettling to read as the father of three teenage girls. In this case it isn't just tormenting and bullying, but goes much, much further than that. Any parent who reads this should have some uncomfortable moments as they consider their kids getting into a situation like the ones O'Nan puts his characters into.
He also has a gift for getting to the point quickly and keeping his stories relatively short. If you really wanted to, you could finish this in a day, but it isn't some light, breezy read. It will leave a lasting impression on anyone who reads it.