Wow, in a shocker that is apparently not an April Fool's Day joke, Roy Williams is retiring after 33 years as a head coach. I am equally surprised and unsurprised. Both because of his age and his demeanor in recent years, it has been fashionable to wonder if each season would be Roy's last.
But I am honestly floored this is the year he pulled the plug. I did not think he would want to go out the way he did this season, with a mediocre (for Carolina) team filled with young guys that had the potential to get better over time. I thought he might try to hang on one or two more years to make a run at a fourth national title.
Apparently not.
Thus ends one of the most remarkable coaching careers in the history of the game. How many coaches go from being a long-time assistant at a top five program to head coach of another top five program and then go back to the first program?[1] No stints building the resume at smaller schools, riding the bench in the NBA, or otherwise taking their lumps to finally get a chance at a Blue Blood.
Roy arrived at KU a year before I did. Like a lot of people, when he was announced as the new coach in October 1988 I was confused that it wasn't Gary Williams of Ohio State who was being introduced. "Who the hell is ROY Williams?" was the common refrain. His first year KU struggled under the weight of NCAA sanctions. But my freshman year he beat #2 LSU and #1 UNLV back-to-back in November, hung 150 on Kentucky in December, and led KU to its first #1 ranking in 30 years in January. I quickly joined the rest of the KU student section in chanting "Roy, Roy, Roy!" each time he entered the court from the locker room.
My sophomore year he coached a team that lost in the national championship game.
Two years later he got back to the Final Four.
Then things really got rolling. He started cleaning up in recruiting, bringing in Jacque Vaughn, Scot Pollard, Jerod Haase, Raef LaFrentz, Billy Thomas, and Paul Pierce over a three-year span. That group was the core of likely his best team, the 1997 team that lost just once in the regular season – in double overtime on a last-second shot off a loose ball in a classic game at Missouri – before laying an absolute egg against the eventual national champions Arizona in the Sweet 16.
The next year he had two first team All-Americans in LaFrentz and Pierce, but couldn't survive the first weekend.
This was when he started to annoy KU fans. His skin got thinner. He acted like he was the only one who hurt when KU lost. He publicly said he would never recruit a player that North Carolina was also recruiting. After finishing second to Syracuse for New York native John Wallace, he said he would never recruit anyone from the east coast again because there were "too many schools to recruit against." He blasted the KU students for not filling the stands one night against a 7th or 8th place Big 8 team when there were two huge midterms sucking up freshmen and sophomores, then publicly flirted with Tennessee who had just fired their coach. And there was the crying when his teams lost in March, and the insistence that "no other coach could be prouder of their team than I am of mine."
And that's just the stuff I can remember.
In the spring of 2000 I sent an email to some friends saying I would be fine if Roy left. I was tired of all the weirdness of his personality which I thought distracted from the team and their success. When Dean Smith retired a couple months later I was sweating it big time, and cheered with everyone else who raced to Memorial Stadium to watch him say "I'm stayin'!" He had a crop of great young players – Nick Collison, Drew Gooden, Kirk Hinrich, Jeff Boschee – and the removal of the lure of Carolina would surely mean he would face no more questions about leaving KU.
The next March he lost to Bill Self's Illinois team in the Sweet 16.
The 2002 team was another of his very best, a squad that was perhaps the most perfect team he ever coached, filled with shooters and numerous ball-handlers and slashing athletes and multiple big men who were damn-near impossible to stop. That team lost to a Maryland team that was on a mission in the Final Four.
A year later Collison put the team on his back and they returned to the Final Four. The Monday of Final Four week North Carolina fired Matt Doherty and, suddenly, the college basketball world was focused on the certainty that UNC would hire Roy the day after KU's final game.
What was a distraction to fans apparently wasn't to the team, which absolutely destroyed Marquette in the national semifinal. But Roy's stubbornness may have cost them a national title when he waited until KU was down 20 in the first half to put his best defender, Hinrich, on Gerry McNamara, who hit five 3's. A furious comeback fell short because of missed free throws and an epic block by Hakim Warik. In the aftermath, Roy told Bonnie Bernstein, and the world, "I could give a shit about North Carolina right now."
A week later he was the Tar Heels' new coach.
Most KU fans were pissed, for a variety of reasons. My view was that everyone in basketball knew Doherty was getting fired and UNC would make a hard push for Roy. Roy knew what was going on just as well as we did. He could have made one call, to Dean Smith, and said, "Please, tell them to wait one week. Let me coach my team without this over my head," and I think that would have been enough to delay things. I felt that by not doing that, he took the focus off his team and made it about him. I don't think he wanted the attention to be on him. I just think he was so stubborn that he felt, "This is dumb, people shouldn't be talking about it," and honestly believed that the media would follow his thinking rather than the story. The questions about his future still would have been there. But they would not have been THE topic of the week, with that terrific 2003 team getting the bulk of the attention.
Would that have changed the result on that Monday in New Orleans? We'll never know.
It was a strange dynamic between KU fans and Roy the next few years. We loved Bill Self, but as his first few teams struggled to figure out his system as Roy's players cycled out, and Roy finally won a title in 2005, it was hard not to feel like we got the lessor in the exchange. Maybe it wasn't Roy's issues that kept KU from winning a title in his 15 years, maybe it was something about Kansas. Back-to-back first round losses in 2005 and 2006 made those comparisons worse. For some reason a lot of us used that as fuel to hate Roy more. As if the drama of his departure played a bigger role in KU's relative struggles than the normal growing pains that come when a new coach steps in.
Then came the 2008 Final Four, and the epic matchup between KU and Carolina in the semifinals. KU played one of the greatest twelve minutes in Final Four history, absolutely blitzing UNC to the tune of a 42–18 lead. At one point Brandon Rush had scored as many points as the entire Tar Heels roster. Carolina mounted a furious comeback in the second half and got as close as four. I think a lot of KU fans – me included – would have given up on Bill Self, the Jayhawks, and/or college basketball forever if they blew that game. But KU had another run in them and won comfortably before claiming the program's third NCAA title two nights later. Roy famously wore a Jayhawk sticker on his shirt and cheered for KU that night, to the consternation of many UNC fans. Roy won his second title the following year and I think most KU fans either didn't care or were happy for him.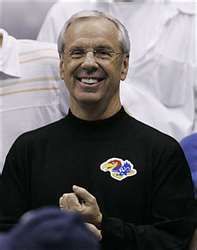 That changed things for a lot of KU fans. We were validated with a title. I sure softened toward Roy at that point. I still loved to make fun of him, rolled my eyes at all the pat expressions he used, and laughed when he lost. But I also wanted him to beat Duke when they played.
Self and Roy coached against each other two more times. In the 2012 Elite 8 their teams were tied with just over 2:00 left when Elijah Johnson hit a long 3, opening a 12–0 run that sent KU to the Final Four. Self famously threw a triangle-and-two defense at UNC in the second half which bogged down their offense. When Roy said, after the game, that he didn't realize that was what KU was doing on D, we laughed and laughed, using this as evidence that Self was the better coach. Obviously we had come out on the better end of that 2003 coaching carousel! A year later even I felt kind of sorry for Roy when the Tar Heels were made the #8 seed in KU's region, meaning a win in round one would force them to play KU in Kansas City. Naturally, when that game rolled around the Tar Heels totally dominated the opening 20 minutes, but faded quickly in the second half and KU won rather easily.
Roy added another title in 2015 and nearly got a fourth in 2016 were it not for (arguably) the greatest shot in NCAA Tournament history.
From afar Roy seemed to just get a little more Roy-ish each year. He snapped more at the media. Got his feathers ruffled by seemingly minor annoyances. And so on. The contrast to Self was jarring.
Self has always carried himself like someone who was completely comfortable in his own skin and believed he was doing exactly what he was supposed to be doing. It was the most normal thing in the world that he was coaching Kansas, recruiting top 10 players, and dealing with the national media.
Roy, on the other hand, always seemed insecure and unsure of whether he really belonged as one of the greatest coaches in the game. I hate to bust out the pop psychology – no pun intended – but I'm sure some of that came from his childhood, growing up largely without his dad around. Some of it was because he was only a JV player at North Carolina. I think he felt he kind of stumbled into the Kansas job and that when the Carolina job opened, there would always be better candidates than him to take it.
Despite all those psychological and personality barriers, he was, no doubt, one of the best coaches ever. You can quibble with his methods, Lord knows I have and I'm sure there are plenty of Carolina fans he drove nuts. But the dude fucking won. A ton. Nine Final Fours, three titles, three losses in title games. Eighteen conference championships in 33 years. In the modern game, only Coach K can top that.
I hope Roy can return to Allen Fieldhouse soon, in front of a capacity crowd, to be honored for his entire coaching career. For all the issues I had with him and the way he left Lawrence, there is no doubt that it was Roy who made Kansas basketball into the modern juggernaut it is. Larry Brown revived the program. But his methods and personal foibles were so dodgy that they did not guarantee continued success. Roy worked his ass off get the best recruits to begin considering Kansas again. He won big games against name opponents on national TV that made the school a coast-to-coast brand. He revived and honored the history of the program and made it an integral part of its daily functions.
Most of my best KU basketball memories come from when I was in school there. That's when it became the sports fandom that defined me. My best moments were tied to big KU wins. I would wallow in self pity when they lost, especially in March. I once, infamously, told a roommate who wasn't into sports but was just trying to make conversation after an especially bad loss, that I didn't talk after KU lost. Eventually I realized what a dickish thing that was to say and made fun of myself for it.
All of that was in the Roy era. Now that his career is over it's easier to focus on all the great parts of his time at KU, ignore the messy ending, and appreciate what he meant to both the program and my life as a Jayhawk fan.
---
Although KU was coming off a national title when Roy arrived, you can make a solid argument the school was only a top ten program at the time. Maybe even top fifteen. When Roy left, the program was firmly back in the top five.  ↩