It was a very good weekend with some very good friends in Nashville. This was our first-ever trip to Music City, USA, and we had a great time.
The four couples caravanned down on Thursday afternoon. We had a rental in the very cool area known as 12 South, not too far from downtown. Our house was fantastic. Very stylish, lots of room, and it served as a good home base for our adventures.
I don't know that I've ever seen a neighborhood with as much Halloween spirit as this neighborhood. I would guess three out of every four had elaborate decorations out. They weren't just some Target lights and an inflatable or two, either. They were displays that took creativity and some real effort to put together. This one of Johnny and June Cash was one of my favorites.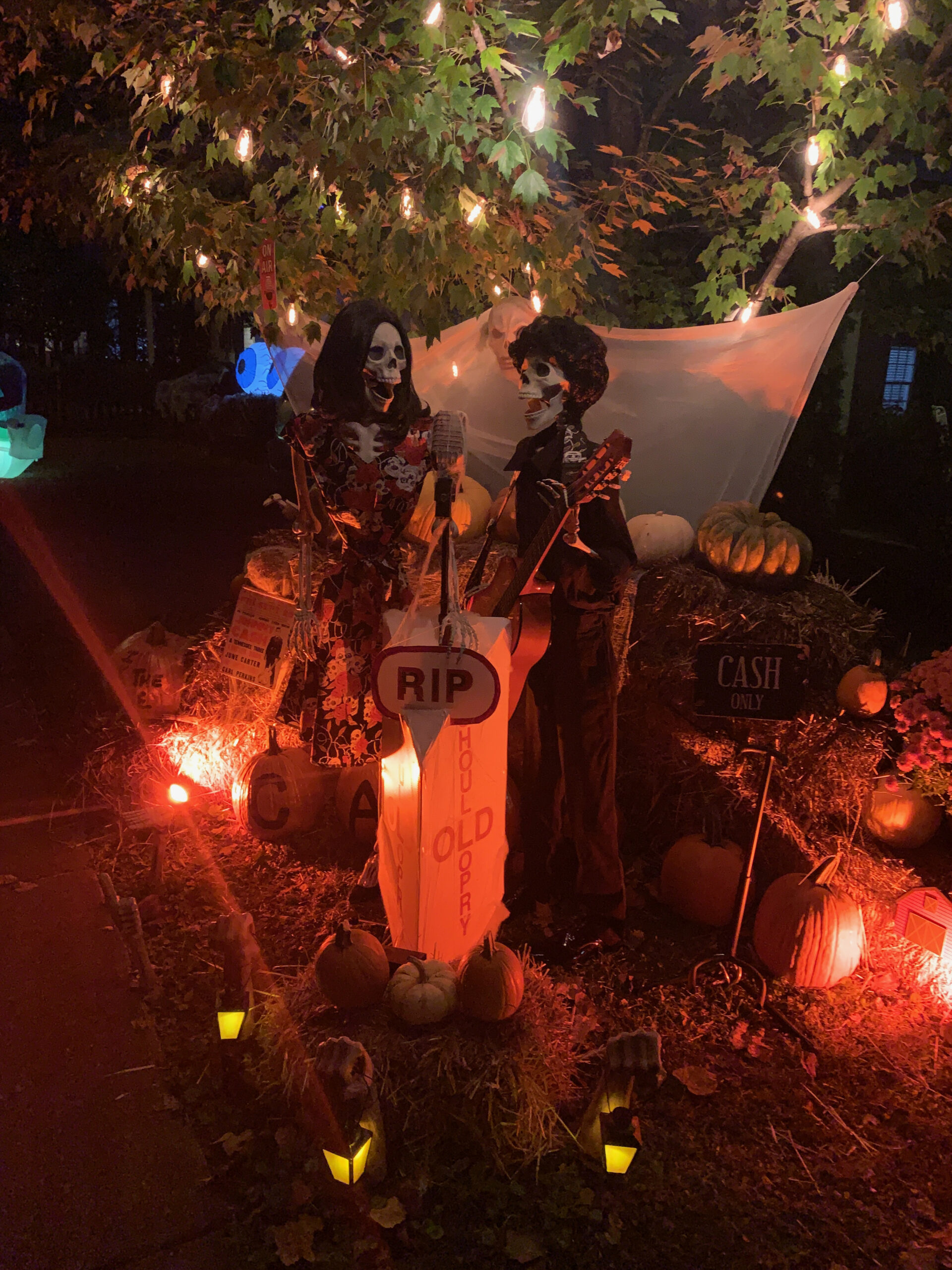 Thursday night we went to dinner at Blanco, a Mexican place on Broadway. The windows were open and we sat next to them, watching the crowds pass as we enjoyed our food and company. The hockey arena was right across the street and an already packed area got even more crowded when the game ended and fans in hockey sweaters flooded out.
Following dinner we walked around and explored a few clubs. I've heard plenty of stories about the music scene in Nashville. But until you see it first hand, those descriptions don't do it justice. It was hard to process all these clubs, most of which are 3–5 stories high, with a different live band on every level. We popped into three different venues and heard at least seven different performers. One club we timed just right (or wrong) and each floor's band was in the midst of their break. Plus all the artists we could hear as we walked along Broadway. It's a little overwhelming.
Friday morning S and I went out and sampled a 12 South coffee place, Frothy Monkey. We had a brunch reservation but liked it so much, and were eager to avoid finding Ubers for eight, that our group walked back down and had brunch at FM. There was an hour wait so we did some exploring. We came across another restaurant that was doing a soft open that day. We talked with the owner and head chef's husband a bit while we nibbled on pastries and sweets. The decor and food were both amazing, so we hope it makes it and we can say we were there on its first day. It is called The Butter Milk Ranch, so look it up if you are in the area.
Brunch was great and we wandered around the area more after eating. 12 South is filled with restaurants, coffee shops, and boutiques. I think we all agreed we could live there if the need/opportunity ever presented itself.
One couple left Friday afternoon to prepare for a full day of tailgating at Notre Dame on Saturday. The rest of us made appetizers while we enjoyed the gorgeous weather and drank some local beer on our back deck. We dicked around too long to get on any dinner lists early and ended up eating at a little place that was more focused on good beer than food. I mean, the food was decent. But it wasn't memorable and the beer was much better. Our appetizers were good, though.
Saturday morning another couple left, this time for Parent Weekend activities at Purdue. That left one other couple, good friends of ours who moved to Michigan 15 or 16 years ago. We haven't seen them in far too long and loved having a day alone with them. We went back downtown and had drinks and lunch at the rooftop bar of the Hampton Social. There I discovered a great local beer, Jackalope Brewing's Bearwalker, a Brown Ale made with maple syrup. They went down waaaaay too easily. I could have drank a dozen. Of course it helped that on a big screen behind us KU was, somehow, outplaying Oklahoma for 30 minutes of college football.
We couldn't convince the ladies that it was important to stay in our seats until the game was over, so we headed over to Broadway and did some wandering. We bought our girls some t-shirts, popped into several clubs to hear more music and drink more beer, and even took the tour of the Ryman Auditorium.
Even though it was still fairly early, Broadway was freaking packed. Honestly, it made me a little uncomfortable. This was my first time around LOTS of people since Covid hit. We were in the South, in a Mecca for country music. It may not be fair, but I assumed the vaccination rate among the masses was not as high as in our little group (100%!).
The big elephant in the room for the weekend was that I am not a country music fan. I can enjoy some country music for brief spurts when the artist shows genuine talent. But a lot of it sounds the same to me. And I do not get into the culture that surrounds country music at all. It's just not my thing, and when I'm around a ton of people for whom it is definitely their thing, it's hard to relax and enjoy things. I recognize that's elitist or snotty or whatever. I'm sure many of these folks wouldn't enjoy going to a concert for some obscure indie rock band in Chicago or wherever.
That said we did see a woman singing at Miranda Lambert's bar who was really good. She had a voice reminiscent of Dolly Parton. She was just singing covers, but she had terrific range, could play the hell out of the guitar, and there was something about her vibe that made me think even though at first glance she was straight Appalachia, I bet she had a little punk rock in her.
Broadway was really hopping by this point and we had been drinking for about five hours, so we Ubered back to our house to watch some of the Purdue game (my buddy is a Purdue alum, and took me to my only Purdue game 18 years ago). We opted for a late dinner, hoping to have more luck with waits, but it still took us four tries to find a wait under an hour. That ended up being a terrific pizza place called Mafiaoza's. They had Bearwalker on tap and made some fine pizza.[1] A good way to round out our visit.
Our drive down was easy. The drive back was a little more of a struggle. The weather was fantastic in Nashville. Cool mornings, afternoons in the 60s or low 70s. Perfect walking-around weather. That held Sunday until Louisville, where we hit some rain. We spent about 10 miles going no faster than 50 MPH thanks to heavy showers. Once we got out of the rain an accident slowed traffic for another stretch. By the time we got to Indy the heavy rain returned and I–465 was kind of a mess. It was a stressful end to an otherwise easy trip.
Oh, I must share this that has nothing to do with Nashville: we took my Audi and the drive was sooooooo good. I got to mess around with the adaptive cruise control which makes to almost too easy to make a long trip (four-and-a-half hours in this case). All the comforts of the Audi I feel in the city are magnified on the highway. In my Large Chevy days I felt uncomfortable ever going over 80 on the highway unless I was passing someone. Those vehicles felt so big and uncoordinated that I knew if I needed to make a quick adjustment at high speed, it could easily turn into a dangerous situation. But in the Audi, I always felt in control. You barely heard or felt the engine at high speeds. I had the cruise set a lot higher than I would have in the Suburban or Tahoe and it felt smooth as hell. Shame it took me so long to get it out for a long, highway drive.
The girls apparently had a good weekend in Cincinnati with their aunt and cousins. They went to the aquarium and wandered around the city quite a bit. They made it home safely as well.
We have one more rather big family trip on the calendar before 2021 ends, assuming flights don't get cancelled or resorts close. But it was very nice to squeeze in an all-adult trip for a change of pace.
---
While waiting for our table we popped into a little beer store and I found a six pack of Bearwalker to bring home. Sadly it does not look like they distribute to the Indy area.  ↩