What follows is an epic, old school breakdown of our Thanksgiving week trip to Italy. I spent almost all day Sunday working on it, so I hope it is coherent and interesting. I've broken it into sections so you can read in chunks or skip around as you like.
---
Departure/Chicago
The trip began a little ominously. I woke up feeling terrible last Saturday morning. All three girls had been sick over the previous few weeks, one with a stomach bug, but it seemed like I had avoided all their germs.
But there I was, throwing up for the first time in years, unable to keep even bland food down, and having a hard time getting out of bed. On the freaking day I'm going to Europe for the first time in my life. Wonderful!
Fortunately throwing up for the third time did the trick and I rallied to get ready. Thank goodness I was 95% packed, didn't need to accomplish a lot that morning, and we didn't have to leave our house until noon.
Our fight to Paris was out of O'Hare, so we had a three-hour drive to begin our adventure. It was cold, windy, and bright in Indy. When we got up around Merrillville, IN it started snowing. As we passed into Illinois the snow because so heavy it was hard to see at times.
Luckily these were just isolated squalls, and after driving through heavy snow for five minutes we would pass into clear skies and bright sunshine. Weird.
Parking at O'Hare was a bitch. Although we had plenty of time, it was still a little stressful to cruise around for 15–20 minutes and not see a single open spot. We finally found one on the roof level of the garage, parked, and stepped into a wind chill of 11. We were not dressed for that temperature so it was an unpleasant walk at our quickest pace to the nearest elevator.
We got TSA Pre clearance for the entire family a year ago for our Hawaii trip. We didn't really need it on that vacation, but it paid off big time in Chicago. The security lines in O'Hare were outrageous. Even arriving 2.5 hours before our flight, we may well have missed it if we didn't have TSA Pre. It took us maybe 15 minutes to sail through that line
I wonder if some people on our flight were stuck in those lines and contributed to the delay we experienced. More about that later.
---
Rome
It's hard not to speak in cliches about Rome. The amount of history collected in a relatively small area is staggering. Diving into it can be overwhelming.
We arrived in Rome six hours later than expected, so rather than take the food tour of the Trastevere neighborhood we had booked, we went straight to our hotel and found a little restaurant down the block that had good reviews. We ordered pizzas, wine for S and I, M had her first spritz of the week (she was very excited to be drinking legally with her parents), and tiramisu. It was all very good.
Monday we had an eight-hour, Rome In A Day tour booked. We didn't see everything the city has to offer, but we sure got a lot of it. We started at the Vatican – a 15 minute walk from our hotel – touring the museums and walking through the Sistine Chapel and St. Peter's Basilica. Just. So. Much. Stuff.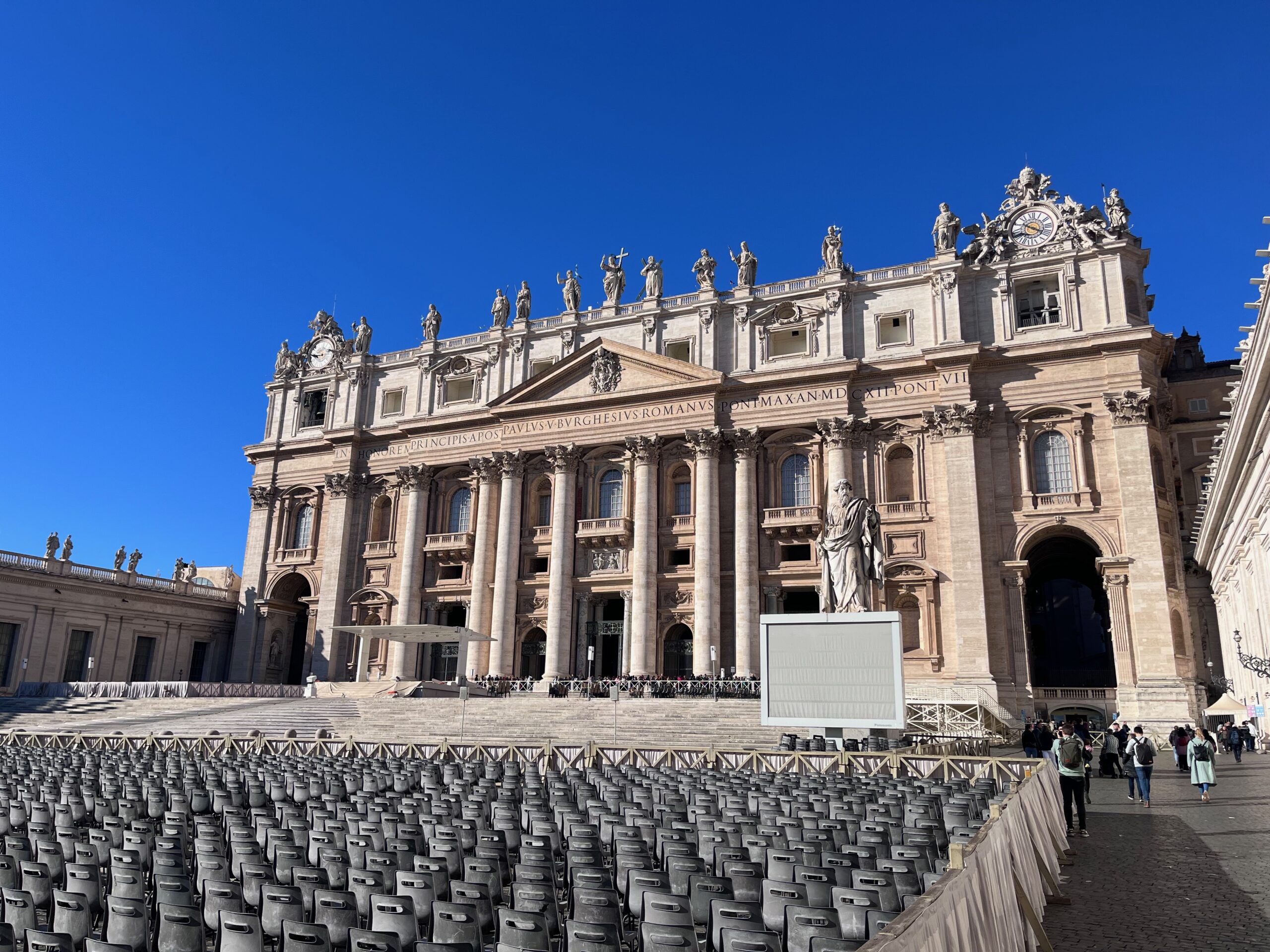 M was endlessly fascinated about how we could walk out of Italy into a completely different country simply by crossing the street.
That was the first two hours of the tour. We crossed the street back into Italy, hopped into vans and headed towards downtown, where we walked through the Pantheon and braved the crowds for the obligatory Trevi Fountain pics. I desperately tried to recall what my college art history instructor told us to do if we ever visited the Pantheon, but couldn't come up with the memory.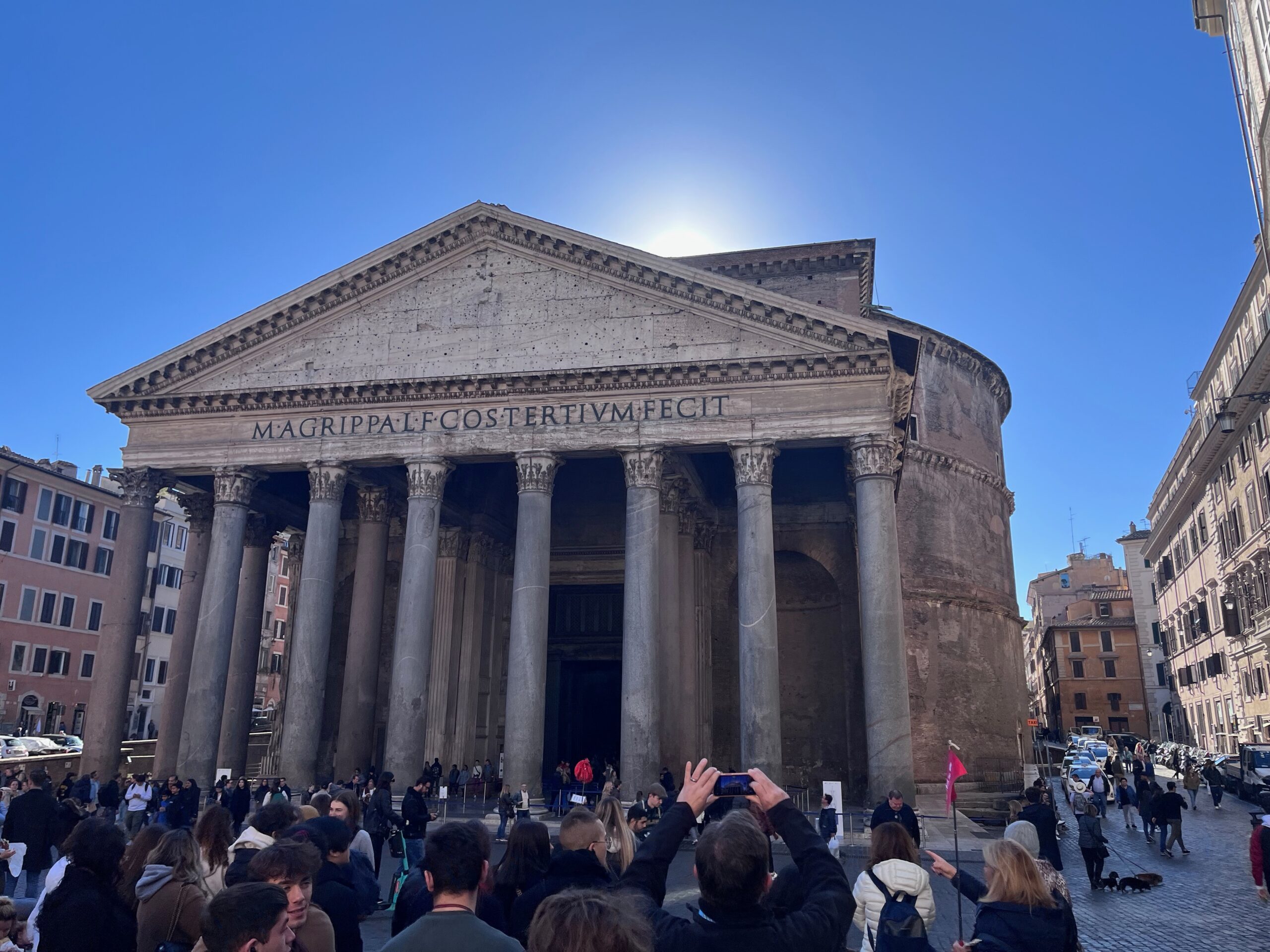 After a break for lunch – pizza and pasta for all – we hit the Forum and ruins area. I had seen pictures of the ruins, but they kind of look fake. Then you walk through them and realize, "OK, this is really real." You can't help but be floored by how long ago some of these buildings were constructed. Thousands – plural – of years. We get excited here in the States when we find something that is 200 years old. The breadth of human experience on these locations was as impressive as the buildings themselves.
The tour ended at the Colosseum. Again, you see pictures but it doesn't really come together until you see it from a mile away, then a block away, and then you are actually walking into it across materials people were crowded into centuries ago. Our guide mentioned the cliche "If the stones could talk, they could really tell some stories." It certainly applies in Rome.
One humorous highlight of our tour was a couple that was in our group, an older Asian woman who spoke very poor English and her 20-something daughter from California. I'm guessing there was a 40-ish year age difference between them; the mother seemed a bit overwhelmed by everything and the daughter may not have been the most mature person in the world. A couple times the mother got confused and thought she had lost her daughter, only to be told they were standing 10 feet from each other.
After the lunch break we noticed they were staying far apart, the mom often going out in front of the group with the daughter straggling behind us. We wondered if they had argued over lunch. A couple times the mom started talking to one of our girls, thinking they were her daughter simply because of their size. A LOT of stifled giggles from our girls when this happened.
As we approached the Colosseum the mom became distraught when she realized her daughter was nowhere to be found. We all looked around, our guide called for the daughter on her headset, but she didn't appear. So the mom and guide went back towards the Forum hoping to find her. We could hear our guide muttering on her microphone that we were going to miss our time getting inside the Colosseum. They tried calling her, but the mom couldn't remember the daughter's phone number. After like 15 minutes the daughter appeared. We never heard where she had wandered off to. Maybe she was just trying to ditch her mom?
Our guide, Monica, was awesome. Super knowledgable, very friendly, and with lots of sly comments not everyone would pick up on. She pointed out how ancient art was often propaganda for whoever was in charge, and while we should admire it, we should realize that sometimes the accepted stories behind them don't reflect reality.
She also told us how interpretations of buildings and art we've held onto for centuries are being challenged with the use of modern technology. The Colosseum, for example, may have functioned differently than we have assumed. I liked that she shared these stories. We may know the broad strokes of history, but getting the details correct thousands of years later is likely an impossible task, yet one that is worth pursuing.
My favorite comment of hers was when we walked by the Italian Senate building and she gave us an update on their political situation.
"We just had our first female prime minister elected. Which was a good thing…even if she wasn't the one we wanted."
Several of us chuckled at that. If you keep up on your foreign affairs you may understand why.
It was a terrific way to see a ton of the city in a relatively short span. The weather was perfect, in the upper 50s to lower 60s and clear all day. If you only have one day to see the city, this was the way to do it.
We squeezed into a taxi to get back to our hotel. I don't think we got the full Roman car experience, but it was still a rather fraught 15 minutes. Especially since I was the one pressed against the front passenger door with other cars inches away.
After an hour or so of recharging it was into another taxi to head to Trastevere for our rescheduled food tour. This was one of the highlights of our trip, and we were so glad we were able to move it to Monday.
Our guide was an Italian-American woman who now lives in Rome and is married to an Italian. She studied cooking, has a masters related to where food comes from, and works for a group that focuses on sustainable food.
Over the next three hours we strolled through the trendy neighborhood sampling various foods.
Our first stop was at da Enzo, a little family-run place that is mega popular. We were sliding in before official opening and there was already a line at least 30 people long. When we left it had doubled. Here we had appetizers, a glass of wine, and C and I shared some tiramisu (Her goal was to eat it as often as she could this week).
Stop two was Spirito Di Vino a wine-focused restaurant in a building with an amazing history. First the chef, who I think can safely be called eccentric, came out to greet us. He asked where we were all from. When we said "Indianapolis, it's near Chicago," our standard overseas answer, he exclaimed, "I'VE BEEN TO GARY!!!" I would love to get that backstory! Maybe he's a big fan of the Jackson family?
One of the other couples in our group was from Columbia, MO; he is an attorney, she is a pediatrician.. We thought that was hilarious. They were nice. M decided to tell them how I hated Mizzou. Smart girl, but doesn't always read the room well.
What made this restaurant special was its wine cellar. It was built at least 2300 years ago. You could literally smell the history when we went down to tour it. When the cellar was excavated in the 1800s, a very famous statue was found that dated to the building's earliest days. That statue is now in the Vatican museum and we had seen it in the morning. Today it is a humble eatery.
We drank more wine and had a pork stew that was based on an ancient recipe the chef believed close to what people were eating 2500 years ago.
Next we had some street pizza at Pizzeria La Boccaccia, including one that had potatoes on it that was surprisingly amazing.
Fourth was to a little meat shop run by a father and son that specialized in these amazing pork sandwiches. I could have stayed there all night.
Our final heavy food stop of the night was Rione 13 where we had two of Rome's most famous pastas: cacio e pepe and all'amatriciana. These were the two best pastas I've ever had.
We wrapped the night up with some gelato. M was very proud that she had read up on how to tell what the "good" gelato is, and our guide agreed that her research was right-on: avoid the stuff that is super bright and piled high in its bins and go for the gelato that is more muted in color and rests lower in the pan, often covered when the shop isn't busy.
This food tour was fabulous and worth every one of the 130 Euros they charged us to reschedule when we couldn't attend the Sunday session.
---
Florence
Tuesday we woke to rain, which we expected. We Uber-ed to the Roma Termini train station and headed up to Florence for our second city of the week.
By the time we arrived in Florence it was pouring. We all donned rain jackets, pulled hoods over our heads, and marched about 15 minutes to our hotel. After we let the girls take a quick nap we took John N's advice and went to the Mercato Centrale for lunch.
The Mercato serves as Florence's central market on its main level (duh) and has a large food court on its second level where you can grab a seat and then pick-and-choose your meal from various vendors. It was a bit packed because of the lunchtime rush, and some folks even stole our first seats, but it was fun to try different things and watch the crowds.
It was still raining lightly after lunch but we stopped at a small coffee shop for hot chocolates and coffees, and I got to experience the joys of the Italian coffee bar. Look it up on YouTube. It was EXACTLY like every one of those videos, which I loved.
Later we decided to try the roof bar/restaurant at our hotel for an early evening snack. The rain had switched to mist, but still only the indoor seats were available. The views were still wonderful. We ordered the evening special, which was a drink and "snacks." The snacks were a bunch of small bites, which we expected, but they included an oyster, beef tartare, some smoked salmon, and other raw-ish foods. I figured, when in Rome – or Florence I guess – and downed everything but the oyster. M tried the oyster and couldn't finish, saying it tasted like a fish bowl. The other girls picked at theirs and focused on the chips and mixed nuts. Ninety Euros down the drain for their picked-over plates, but at least the view was nice.
Wednesday morning the rain had moved on and the day was cool and crisp. Our activity for the morning was a three-hour walking tour of the city center.
We began at the Accademia for the obligatory viewing of Michelangelo's David. I loved this little museum. One of my favorite college classes was that Art History course, and, as with the Vatican museums, it was amazing to see these old pieces of art and how styles changed dramatically during the Renaissance.
L thought the David was "overrated." I tried to explain why it was so important but she wasn't having it. I mean, I kind of get it. It's just a statue of a dude. But often the importance of art is as much about the history that led to its creation, and the way things changed after its appearance, as the piece itself. Maybe she'll take art history in college and then understand.
After that we slowly worked our way through the city center, spending some time around Piazza del Duomo, passing Dante's home, making our way to Ponte Vecchio, and ending at the Palazzo Vecchio. The Duomo is outrageous. I'd seen plenty of pictures of its dome. I don't think I had seen pictures of its marble exterior since college. Again, a little overwhelming trying to understand how it was made when it was made, and how it has lasted this long.
After lunch – pasta for all – we wandered the city streets and did some shopping then returned to the hotel for some down time. After about an hour I was itchy to not waste time on my first trip to Italy, so took a long walk on my own. That's when I fell in love with Florence. The sun was setting, there were already Christmas lights out, and without a hood over my head or my eyes focused on the map on my phone, I just wandered and took the sights in.
You see these movies filmed in old European cities with their narrow, crooked streets, and think "That's just part of the city." But Florence really is this wonderful maze and every turn brings a new surprise. I was amazed at how much shopping there was. How many art stores. How many tiny, neighborhood cafes and bars. Even with all these strange, odd-angled streets, you quickly discover how easy it is to get around once you identify the landmarks.
I spent probably an hour walking without any real plan. I found a couple cool churches not included in our tour. I got into the Palazzo Vecchio's courtyard. I stumbled onto a very oddly dressed Asian couple who were apparently taking wedding pictures. I got back to our hotel just as the sun was setting and stood above the Arno River taking in the gorgeous view.
We hemmed and hawed and dug through our guidebook and Trip Advisor for at least an hour trying to find a spot for dinner. As we grew more frustrated we threw up our hands and decided to walk towards the city center, hoping we found something. If not, we'd just got back to the Mercato.
Which is what we ended up doing.
It was significantly less crowded than the day before. Joe Bastianich has an American Barbecue restaurant inside. We laughed about it on Tuesday. As we walked by Wednesday evening the lady working flagged us down and offered a sample, "These are burnt ends, have you ever heard of those?" We all started laughing. "Maybe you know them then?" she asked. I accepted the sample. It was not Kansas City quality.
M and I got pasta. It came from a counter where they whipped up your sauce right in front of you. Mine had pumpkin, sausage, cheese, and then a Parmesan cream sauce over everything. Fantastic. M's had a truffle sauce, which she loved. She's kind of become a Truffle Person. The rest of our crew got sandwiches and pizza, and S got the pulled pork sandwich from the barbecue place, which was actually pretty good.
On our way home we crossed paths with another American couple, probably in their late 60s. We heard the man say, "OK, we are not moving here, but we can come back."
I really hope I can return to Florence one day. It was my favorite stop of the trip and I would love to spend more time wandering around the city, plus getting out into Tuscany proper.
---
Venice
Thanksgiving morning brought a train ride across the country to Venice.
My view of Venice was purely from movies. And I've never really understood if the entire city is canals and islands, or if that was only part of it.
So spending two days there was certainly an eye-opener. While Rome and Florence are full of history and charms unique to each city, I don't know if there is another city like Venice anywhere in the world.
I realize this is not exactly an original observation.
To be honest, Venice kind of doesn't make sense. Even after spending two days walking around the city and now reviewing my pictures, my constant thought is either "Why?" or "How?" I wonder how many cities with its level of influence on world affairs have the same questions surrounding them.
Our hotel was in the Cannareggio area, which is a quiet, un-touristy part of town. It was a little unsettling to walk the streets of the district and have there be almost no noise. When you remove cars from the equation it reduces that basic background noise level to almost nothing.
We laughed each time we saw a UPS or Amazon delivery boat glide past us.
We had a tour booked for Friday so wanted to just see part of the city while we searched for a lunch spot.
We ended up near the Rialto Bridge and stumbled into a little trattoria that looked promising. While the owner and one of the waiters spoke decent English, the man who took our orders spoke almost none. This made things interesting. But it all worked out wonderfully.
As we studied the menu, the non-English speaking waiter would bring a pan from the kitchen, ladle out a few scoops of whatever was leftover from making other people's orders onto the girls' plates. They got to try gnocchi and two pastas this way. C and L both ordered gnocchi after the sample. He put on a big production like we had done something outrageous and then nodded ok and walked away.
S ordered the seafood risotto. When told that feeds two people, I agreed to share it with her. One of our best choices of the trip. The risotto was delivered in a small boat placed in the center of the table. I don't know, maybe that was kitschy and cheesy, but it delighted us. It helped that the risotto was amazing.
Last year we celebrated Thanksgiving on Kauai with a rather traditional meal in a non-traditional setting. This year it was seafood risotto in Venice. Living right I guess.
Our tour on Friday ended up being just us and our guide, which was a nice change. We took a boat through a good portion of the islands, ending up near our hotel for the walking tour. It was a little more laid back that our other two city tours, less focused on seeing, say, the Colosseum or David, than on providing a general understanding of how Venice works and the history of the island. We spent time in the old Jewish Ghetto. We walked through a secret garden at a home for retired nuns. It was a very different vibe than the other tours but a nice way to wrap-up the week.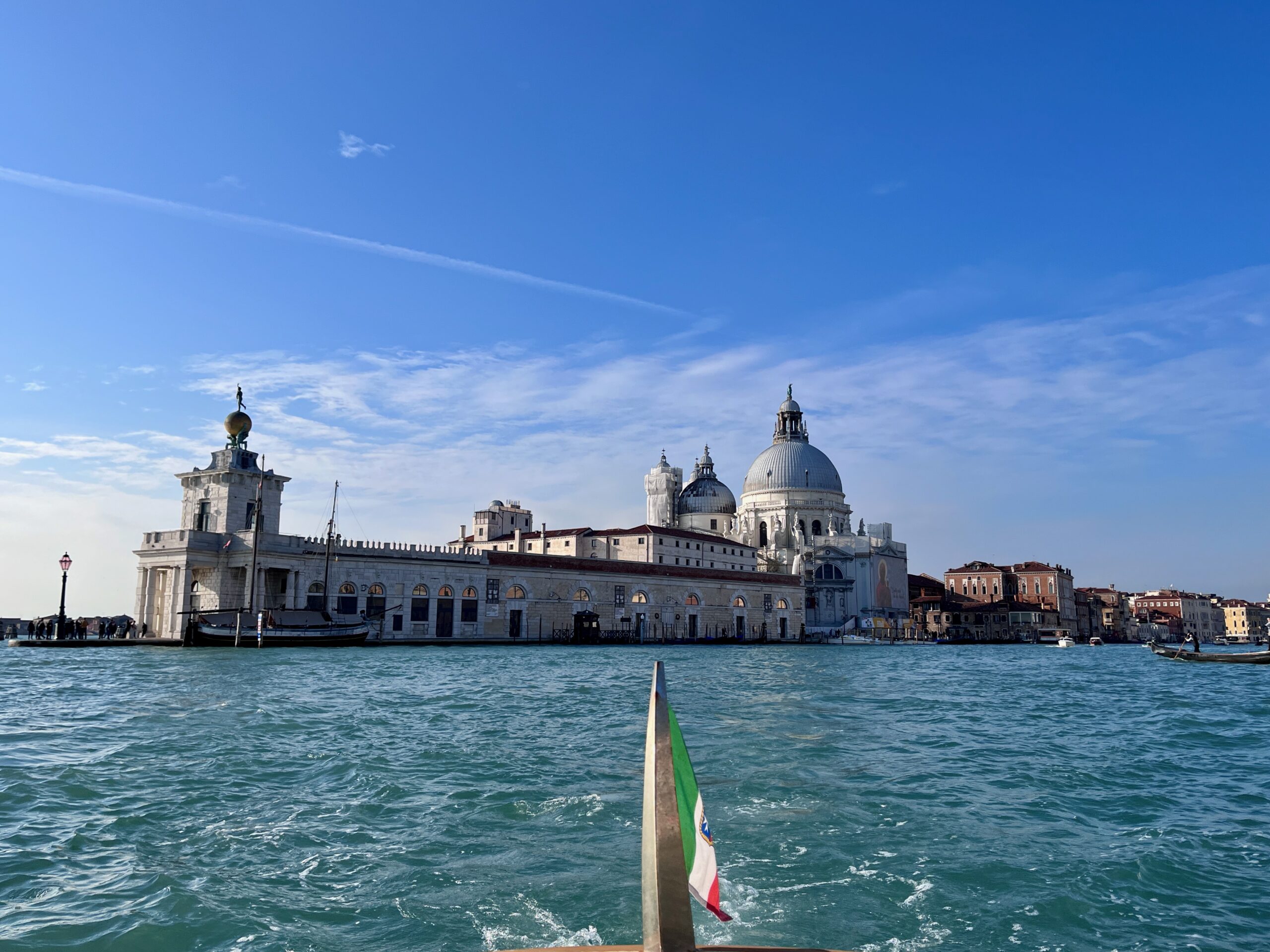 Our guide told us how a high tide was supposed to have hit the day before, but the expected waters had not arrived. I believe I linked to a video about Venice's new floodgates sometime last year. Apparently they worked this time. Much of the island was forecast to be under water, but it remained dry. Lucky us!
Our guide suggested another hidden spot for lunch that ended up being wonderful. The girls and S all had pasta while I had roasted eggplant with marinara sauce.
Following lunch we made the obligatory trek to Piazza San Marco. We were glad we were not visiting in the heart of the summer, when it is jammed-packed with people. We could move around relatively freely and waited in line less than five minutes to get into the basilica.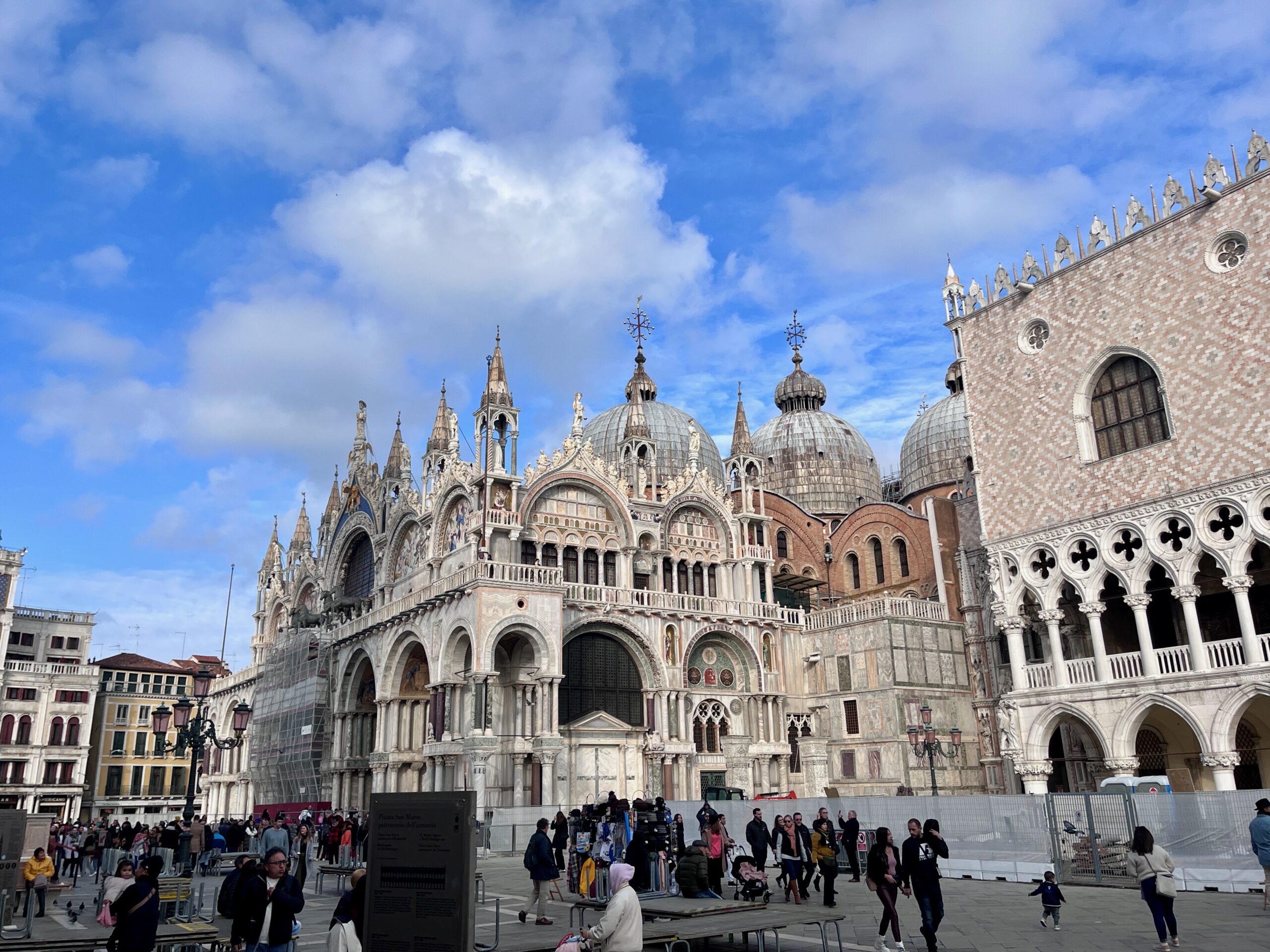 Venice has a similar vibe to Florence with all the curious streets and alleys that have been there for centuries. The obvious difference is the water that can interrupt you path. We found Apple Maps to be very accurate, but a couple times it did send us down streets that ended in water, forcing us to double-back on our path. Some of that could have been more because of network issues and my phone thinking we were one block away from our actual location.
Our only self-inflicted misses of the trip were our two dinners in Venice. Several factors went into this.
We were staying well-away from the areas where most restaurants were clustered. The front desk of our hotel recommended a couple places that were just minutes away, but they were both closed on Thursday, and we thought them too small for our group on Friday.
Restaurants seem very small in Venice, with a focus on sitting outside. It was chilly and not every place was able to squeeze a table of five in.
Our girls aren't into seafood, which complicates things in a city known for seafood. And they were getting sick of pizza and pasta.
Maybe this was just our bad luck, but Venice also seems a little less English-friendly than the other two cities. It was the only city where we ran into people who seemed flustered when we asked simple questions in English.
So both Thursday and Friday nights we ended up in tourist traps. Thursday's had the potential to be bad, but ended up being ok. Friday's choice was not good. Everyone was tired and grumpy and uncommunicative and no one wanted to walk back to where we had already been twice that day in hopes of finding a good restaurant. So we ended up in a spot that took entirely too long to make crappy food.
Oh well, at least it happened on our last night and not our first. Our Rome food tour was expensive, but if you don't have someone to guide you and are unable to make reservations ahead of time, I can see the value in doing that in multiple cities just to ensure you get good food.
---
Travel
We booked our trip through Costco. Highly recommended. We did this last year for our Hawaii trip and it seems like a good deal. This booking included all the airfare, our train tickets, lodging, and transfers on each end of the trip.
In general our travel was quite good. As mentioned in the Rome section, we arrived six hours late because of a slight delay with our flight from Chicago to Paris. We had a very tight window to make our connection in Paris – only 70 minutes – which I had been worried about since we booked the trip. But we also figured Costco would not have suggested those flights if that was not a reasonable amount of time to catch a connection at Charles de Gaulle.
My first tip is you really should give yourself at least two hours between flights in Paris. Even had we arrived in Paris on time, we would have had a very tough time catching that connection to Rome. There's the matter of deplaning on a massive Airbus A350, which took a good 20 minutes. There is navigating from the inbound international terminal of CDG to the outbound terminals, which includes clearing immigration. Coming back that process took us a good hour, and that was early on a Saturday morning.
Fortunately, while we were sitting on the ground in Chicago, I sent our flight info to my sister-in-law who spent years in the travel industry. When we landed in Paris the next morning she had got us seats on a flight to Rome later in the afternoon. There were a couple earlier ones so she suggested we go to the Air France counter and see if we could get on one of them. Those flights were full, but the lady assisting us was very friendly and helpful and adjusted our re-booked seats so we were all together rather than in the scattered seats the AF agent my sister-in-law spoke with put us into.
Thus we sat in Charles de Gaulle for nearly six hours last Sunday morning.
About 30 minutes before we landed in Paris a man had some kind of medical issue. I saw him stand up and walk to the restroom, then his seat mate jumped up and seemed to be kneeling down, assisting him on the floor. Soon all the flight attendants were gathered around him and a call went out for a doctor. Someone near them immediately popped up. S was relieved because the guy who went down weighed at least 250 and might have been out of her area of expertise. Not sure what happened but they didn't bring a wheelchair or medics onto the plane when we landed.
Air France was pretty great. The food was good, they serve wine and champagne with everything, and the fight crew was super nice. When we stepped onto our plane in Chicago I was greeted by a steward with a jaunty "Bonsoir et bienvenue, monsieur! Welcome aboard!" (Apologies if I've bungled the grammar; I never took French.)
The girls and I loved the plane views that were available on our video screens. One was from a camera on the jet's belly, the other at the top of the tail. These were rendered kind of useless since our flight to Paris was overnight (although we saw some spectacular shots of the sunrise over France) and our flight back to Chicago was over clouds for most of the flight. Still fun to watch takeoff/landing.
Another slight issue was on our return trip through Paris. When we landed we checked the board to confirm our flight to Chicago, but its departure was just beyond the time window being displayed. So we headed to the gate indicated on our tickets. We processed through immigration – taking about 35–40 minutes despite the sign saying it would take 10–15 – went to our gate, and set out to find some food. Our flight still wasn't popping up on the board so I checked online and discovered it had been moved to a completely different terminal. We were still a good two hours from boarding, but I had a moment of panic when A) we couldn't figure out how to get out of the terminal we were in and B) I feared we would have to pass through the immigration and security lines again.
After about 15 minutes of wandering/panicking, we finally found someone who pointed us in the proper direction to catch the train to terminal M. We did have to go through security, but that was quick and we found a quiet place to sit for the remaining 90 minutes of our layover.
Sleeping on planes? Surely you jest. I don't think any of us slept for more than an hour at a time. Going to Paris there were three little kids behind us that were absolute maniacs. The kid behind me was kicking or grabbing my chair constantly. Their parents were across the aisle, not giving a fuck or sleeping, depending on when we looked back.
Coming home we woke at 3:00 AM Saturday Venice time, or 9:00 PM Friday in Indy. A few catnaps here and there, but no extended sleep along the way. We pulled into our garage at 9:00 PM Saturday night. We were in bed and asleep within 20 minutes. We all felt pretty good Sunday morning.
That's one way to avoid jet lag.
As our flight from Venice approached Paris, we flew over downtown and were able to see the Eiffel Tower, backlit by the rising sun. That was awesome. It was also cool to see so many people on our side of the plane leaning towards their windows to get their glance at it.
All the European airports seemed clean and nice. I'm not sure how they did it, but our bags were waiting for us when we reached the luggage carousel in Rome. We were near the front of our flight, so off quick, and made a short restroom stop, but it took us less than 10 minutes to get from the gate to baggage claim, yet there they were.
Riding the train in Italy was awesome. I've never been on a real train before, so riding a high-speed one through the Italian countryside was fantastic. The Frecciarossa trains are clean, quiet, comfortable, and fast. Italian train stations were cool, too. I wish I had more time to wander around in them but we only had about 10 minutes between arrival and our departure each day.
On both of our train rides S and the girls had four seats that shared a table on one side of the car while I was in a single on the other side of the aisle facing another single seat. From Rome to Florence I sat across from a businessman who worked on his laptop and took a few calls.
On our second ride a man was already seated on my side we boarded, but he got off in Bologna. When the doors closed and we began moving again without anyone taking that seat, I stretched out my legs to enjoy the extra space for the last 90 minutes of the trip.
A few moments later the door from the next car opened and a rather dazzling looking woman entered and took the empty seat. I'm telling you, a lot of my good friends would have loved seeing how uncomfortable I was facing this woman, especially with my wife and daughters three feet away!
She talked on her phone the entire ride to Venice. From the little Italian I remember from 25 years ago, I think she spent at least 30 of those minutes trying to book another series of train trips. She got disconnected once and was not pleased. She also called, or took calls from, some business colleagues and may have talked to her dad. She spoke to someone else in very halting English, tapping her nails on the table as she carefully enunciated each word.
And then she talked to "Antonio." Not sure who Antonio was, but at one point she let out this long, slow sigh and said, "Ohhhh, Antonio." I couldn't tell if it was filled with longing or sadness or some other emotion, but it was one of the most erotic things I've ever heard. It was stereotypical of how a sexy Italian lady should talk. Again, my wife and daughters were three feet away and I could not enjoy this in the slightest. Don't tell S, but I will never forget how that lady said those two words.
Another thing I had stressed about since we booked was our transfer in Venice. Actually the stress didn't kick in until about a month after we initially booked, when our flight time from Venice to Paris changed, meaning we would miss our connection to Chicago. I got on the phone with Costco and within an hour they had re-booked us onto an earlier flight out of Venice. The only issue was this was a 6:25 AM flight, meaning we would have to leave our hotel super early.
I think it was Tuesday I realized, "Hey, there aren't any cars in Venice. How are they going to pick us up?"
I figured this isn't a new problem and had been resolved years ago, but to soothe my stress I shot an email to our transfer company. They assured me they would be there, and clarified we would hop on a private water taxi before taking a car.
I was still worried they would really be there at 3:25 AM. As usual, I was stressing for nothing. The water taxi was waiting outside our hotel door when we came down to the lobby. Big thumbs up!
Europeans do not know how to board or deplane aircraft. The lines to get onto each of our flights were needlessly slow and long. People in row 12 taking two minutes standing in the aisle getting all their carry on gear situated while 400 people stand behind them and wait. As we de-planed from each flight people from behind us came charging forward without saying "excuse me" or pretending they had a connection to make. As I yelled at L's classmates on our DC trip when they tried to charge up the bus aisle, "We are living in a society, people!"
Coming home we were surrounded by French people who all seemed to know each other. Many of them stopped to chat with the man sitting directly in front of me. One guy talked to him for literally an hour. I was trying to watch a movie (and keep my eyes open) and he was really stressing me out.
---
Other Comments, Observations, and Tips
We read/watched all kinds of "things to be aware of" posts/videos over the past few months. Maybe it was being out of the busiest of the tourist season but we were never really accosted by anyone. We didn't see any gypsies until we got to Florence, and then only a couple. We saw more homeless people – not very many – than gypsies or travel scammers combined.
Pretty much everywhere we went in Rome and Florence, people spoke good English. One cab driver was a little rough but everyone else immediately spoke English to us, even when I didn't notice any of us wearing clothes that screamed "We Are Americans." I had made some meager efforts to recover un pochino of the Italian I learned in college, but when I tried to use it, I often got it jumbled up with Spanish and sounded like an idiot.
I did find the old adage that if you make any effort to engage people in their language, they will try even harder to engage you in yours. I know a few key words and phrases, and I hope my pronunciations were solid, because everyone I used them on seemed thrilled I was trying.
I LOVE how people are constantly saying "Buongiorno" and "Buona sera" to each other. It is delightful.
I was pretty pleased with how I managed our cash. I think I got a total of €350 in cash over the week. We arrived home with €4.30 left, all in coins.
We were all kind of bummed at how the EU messes up your passport stamps. We got stamped both times we landed in Paris, but got nothing in Italy. I would have preferred two stamps, and an Italian one over the French.
The jetway failed to work when we arrived in Paris from Venice so we had to take the stairs down to the tarmac. M, knowing I have weird travel rules, said now I had to count France as a country since I was walking on actual French earth. Trust me, if you get a passport stamp you count the country, even if you never leave the airport.
We've all heard how Europeans eat light breakfasts, often just a coffee and roll. Thank goodness our hotels cater to Americans. It wasn't exactly an old school Shoney's buffet, but there were plenty of proteins to fuel us up for our daily adventures.
The big storm that blew through on Tuesday dropped a lot of snow at higher elevations. As we went through the mountains on Thursday the peaks were all bright white.
How awesome was it to be in Italy during the World Cup?!?! Well, not very awesome since Gli Azzurri missed their second-straight WC finals. The games were all on RAI2 and I had them on anytime we were in the hotel. You could usually see them in bars and restaurants. Over there the games are on from 10 AM until 8 or 9 PM, which was great. But no shops full of Italian national team gear.
I thought about getting a Fiorentina jersey, as they used to be awesome. But I couldn't find one that matched those they wore in the '90s when I paid close attention to Serie A. Since my favorite Italian team is Juventus from Turin, I didn't think it was a good idea to get one of their jerseys, even if they are the most popular team in all of Italy. And since my last favorite Italian player, Alessandro Del Piero, retired like 16 years ago, finding one of his jerseys wasn't easy. Oh well…
Far be it for me to give the Italians advice on how to present their historic buildings, but I think a few spotlights on Il Duomo at night could do wonders.
Our hotels were all very nice. We had two rooms in each, always either next to each other or just down the hall. Each one had their own little quirks, though. In Rome we couldn't figure out how to get the wand for the shower to work no matter what combination of buttons we pushed or handles we twisted. In Florence both the bathtub/shower and toilets were set on extra high bases. I was the only one in the family who could touch the floor with my feet while seated on the toilet, and it was a long step down from the shower. We never quite figured out the lights in our room in Venice, and there was a decent chance someone else would turn the lights off while you were showering because they accidentally hit one of two master switches hidden amongst the others.
L was the only person who admitted to trying out the bidet. She said she was going to make a video of it for her friends, I'm assuming from the neck up. I never asked how that turned out because I didn't want to know.
There were air dryers at most public restrooms. But they are woefully underpowered. Even after a minute of use my hands were always still wet. And I thought their voltage was higher than ours.
The lady who checked us into our Venice hotel's name was Shadi. S wanted me to ask her if she was the real one.
S was shat upon by a bird twice, once in Rome, once in Venice. I told her Italians believe that is a sign of good luck but she wasn't thrilled with it either time.
As mentioned, Apple Maps seems to work really well in Italian cities for walking directions. I couldn't help but think how that changes the traveler's experience. It's really hard to get lost, and certainly an iPhone is easier to read than an unwieldy map. But you also spend a lot of time staring at your phone. I made a conscious effort to find a waypoint on the map and then slide the phone into my pocket so I could take in my environment as we walked, not checking my phone again until we hit that next spot on my mental map.
We each took a small, carry-on friendly suitcase plus a backpack. We ended up checking the suitcases, because we didn't realize there's a 22 kg total weight limit on Air France what you can carry on. Those suitcases were all packed very tightly but it seemed to work well. I was nearly perfect in my clothing choices, so I would be happy to give you packing advice for your next trip.
M and C both bought some clothes and/or jewelry as their souvenirs. L found some Nike Dunks she had never seen in the States and picked them. That took some creative packing to make sure we could squeeze another pair of shoes in.
---
La Fine
My friends know I've had a long love affair with Italy. Most of that had to do with cute ladies I knew (or wanted to know) in my 20s, but eventually it morphed into something bigger. In the summer of 1995 I tried to spend a few months in Florence studying as part of my extended college experience. My parents nixed that for multiple reasons. I figured I would still get there one day. I didn't think it would take nearly 30 years to finally do it.
This was an excellent week. I would make a couple minor tweaks if we were re-planning the trip tomorrow. I would add a day or two, as I would want more time in Rome and could spend another full day wandering around Florence. That's tough to do when you're traveling with kids during the school year. I'd also avoid that tight connection in Paris and the risks it poses to the rest of the itinerary.
Or, as I said above, I'd be fine taking a Tuscany-only trip, getting into the countryside and maybe even popping over to Bologna.
But those are minor quibbles.
We have M's senior spring break coming up in March, but after that we may never have another trip like this as a group of five again. I'm thankful we were able to go to Italy as a family, and hope the girls will carry memories of it as good as the ones I will carry.