Another busy weekend filled with sports of various sorts.
---
Friday night was the biggest high school football game in Indiana this year: 6A #1 Center Grove at 5A #1 Cathedral. Center Grove was ranked in the top ten nationally in every one of those "polls." Cathedral was ranked as high as 14th but more often down in the 30s nationally. Both teams were undefeated. Neither team had really been challenged all season. Center Grove hadn't lost since the 2019 state championship game. Cathedral's only loss in the last two seasons was to Center Grove last year on a touchdown with 16 seconds left in the game. Center Grove has a quarterback going to Tennessee; a defensive lineman who will choose between Alabama, Ohio State, Notre Dame, and Clemson among others; another lineman going to Louisville; a third lineman who was committed to Miami (OH) but is now looking at Power 5 schools; and a safety who is going to Cincinnati. Cathedral has three really good juniors who should all be Power 5 recruits.
So anticipation was high. M and C both went and were super excited that some nationally-known Tik Tok dude was coming to the game. Also a lot of students from the other two Indy Northside Catholic schools skipped their games to come watch.
I knew the crowds would be a nightmare and the weather was expected to be bad, so I stayed home and listened on the radio.
It was a hell of a game…for the first 30 minutes or so. The field – which is natural grass – was in awful shape because of heavy rain Thursday night and during the day Friday. That slowed both teams down, but probably affected CG more. Cathedral was much better offensively in the first half but only had a field goal to show for their efforts, leading 3–0 at halftime. They recovered a fumble on the second play of the third quarter and turned that into three more points. A drive or two later they were moving the ball and went for it on fourth down and two inside the CG 10. The quarterback had a lane, planted to cut, and lost his footing, coming up inches short of the marker.
Four plays later Center Grove ripped off a 67 yard touchdown to take the lead. That energized their defense and Cathedral didn't move the ball the rest of the game. In the fourth quarter CG had a third and 13 and converted it into a 47 yard TD pass. They punched in a touchdown in the closing seconds to win 21–6.
So Cathedral out-gained CG. They ran more plays. They held CG to over 100 yards below their season average in both rushing and offense. And still lost by two scores. Man…
State playoffs start this week. The #2 team in 5A is in Cathedral's sectional, but they aren't due to play until the final in two weeks (Reminder: in Indiana everyone makes the playoffs and sectionals are not seeded). Cathedral got through Center Grove without any notable injuries – or at least that we know of yet – so remain the favorites to repeat as 5A champs Thanksgiving weekend.
---
Saturday we loaded up the entire family and headed down to Bloomington for the IU-Michigan State game. It was homecoming and the perfect excuse for both the girls' first college football game and M's first unofficial campus visit. S's aunt and uncle shared their tickets with us and we joined in their tailgating group. Or at least for part of it. There is a ton of construction between Indy and Bloomington so we only made it down for the last 45 minutes or so of the pregame hang out.
I cracked up when someone walking by dropped a mini-bottle of Fireball and it landed right in front of our girls. They all started giggling and stepped away so it didn't look like it was theirs.
The storms Thursday finally flipped the weather from late summer to early fall and it was nearly perfect, at least inside the stadium where the wind was blocked. Outside it was a little blustery and chilly.
Our tickets were fantastic, 40 yard line, 26 rows up. I've been inside IU's stadium a couple times but much higher up. When you have good seats their stadium is nice and tight and there are great site lines.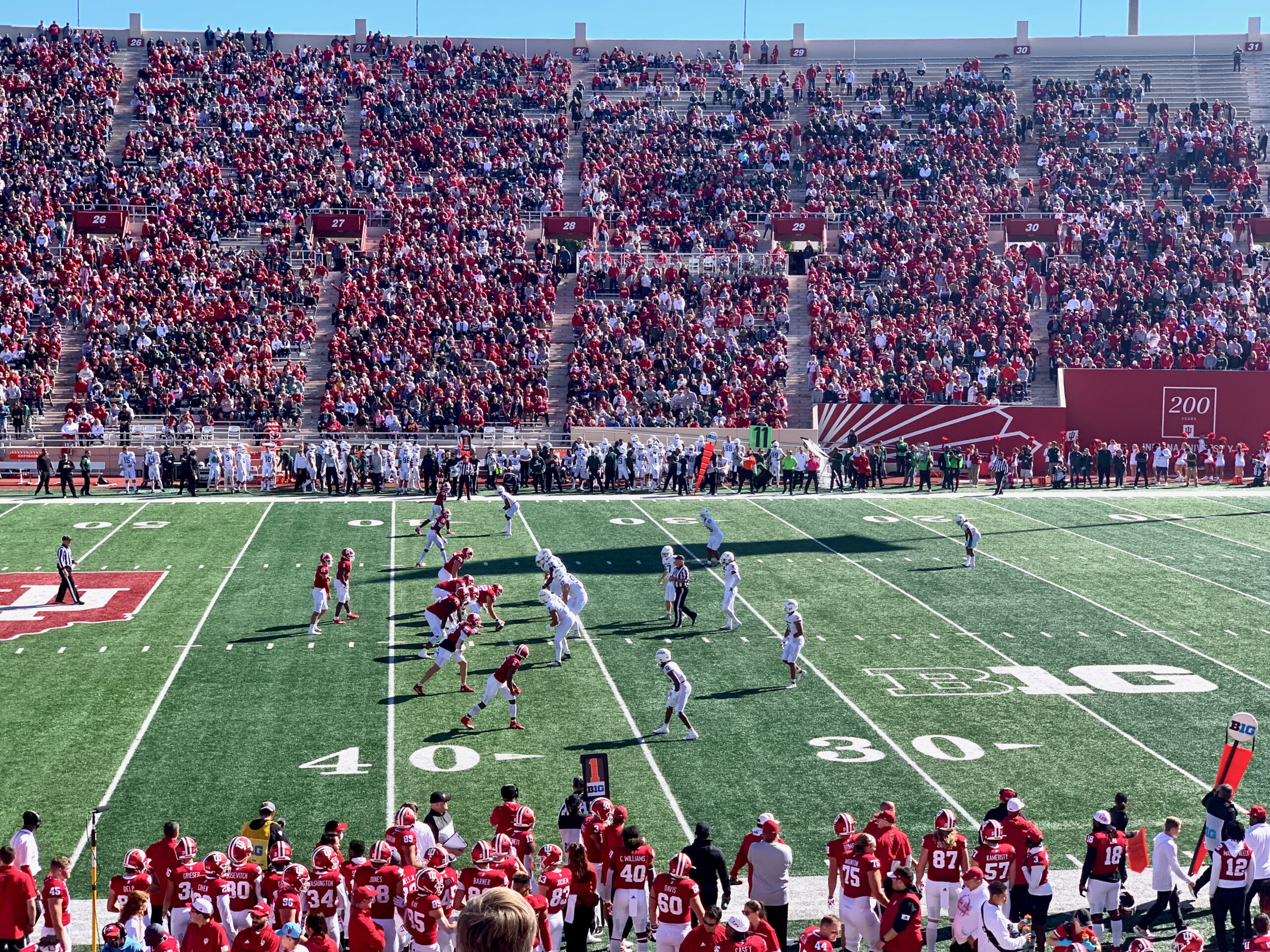 IU played terrific defense for most of the game, shutting down a potent MSU offense, but a pick six kept the Spartans in it. We left at the end of the third quarter so we could walk around campus a bit and beat traffic out of town, but the girls did seem to enjoy the game.
One of their favorite things was a super drunk guy a few rows in front of us. He was in that too happy, too enthusiastic phase of drunkeness through most of the first half. He was 45% more fired up about good plays than anyone around him. Stood on plays when no one else was standing. Tried to high five people he didn't know that were 10 seats away. His girlfriend or whoever kept trying to shush him and make him sit down.
He made us all about piss ourselves after he took a restroom break. He returned, but walked right past our row to one about 10 closer to the field. We watched as he slowly made his way to what would have been his seat if that was his row and take an empty place. The people he slid in between were all giving him odd looks. He casually looked around trying to find his friends. Meanwhile they were sitting in their proper spots, laughing their asses off and taking pictures of him. I'm not sure if he figured it out or someone down there told him he was in the wrong spot but after a minute or two he slunk back up with a wry grin on his face.
After halftime he was struggling. He no longer stood to watch the game but sat, staring at the ground in front of him. He stood up to head towards the bathroom and had the drunken lean going. He made it out but we never saw him return. Ahh, homecoming!
At the end of the first half IU attempted a 55 yard field goal as time expired. The ball would be placed at the 45 yard line so that's about as easy math as you can do to figure the distance. There were some guys two rows behind us who were drunkenly arguing whether it was a 35 or 37 yard attempt. That made me laugh.
Sadly we got to see one of S's former patients get injured. Hopefully it's not serious as he walked off the field but he did not return, which is not a good sign.
I did think it was super cool that they play "Jack and Diane" between the third and fourth quarters. When you have a song like that by a local artist, you have to go with it. We were across from the student section so heard them roaring "Oh yeahhhhhhh, life goes on…" as we exited.
We did a little walking and driving around to show M a bit of campus then back on the interstate just as the game ended to avoid the crush getting out of town.
All-in-all a really fun day, other than the Hoosiers losing. M really has no idea where she wants to go but seems focused on larger state schools. I'm guessing there will be visits to some other Big 10 schools in the next year. And two people asked, I assume with zero sarcasm, when she would be visiting for a KU game. That's already tentatively on the schedule for next year…during basketball season.
---
Sunday L had a couple basketball scrimmages in lieu of another fall break tournament. Five schools got together and played two quick games each.
In the first game we played a school I don't think we've ever played before. They were big but not super skilled and we ran them off the court, winning 32–15. I was glad we played them first.
In the second, we played the school we lost our season opener to. They won that game by nine but that score gave us more credit than we deserved. I'm pretty sure they were missing a girl that day, because they not only crushed us Sunday, but that missing girl went off.
She scored 24 and had 13 rebounds as they beat us by 20-some. It was 25–6 at halftime but our girls got their heads back in it and, other than that one girl, played them pretty evenly in the second half. This girl was unbelievable. She's tall and about as thick as a pencil, but has everything in her game. She posted up and hit turn around J's. She hit face-up shots. She hit two long jumpers. She hit tough shots on the break. She could handle the ball and made good passes. She was really damn good.
L played ok. She scored three in the first game and two in the second. She was 3–4 from the free throw line, which given how our team shoots is amazing. But she had jammed her left middle finger in warmups for the first game and was struggling to do anything with it. By the second game it was swollen and purple. All she could do with the ball was take one dribble with her left then go behind her back to the right. Unfortunately the girl guarding her in the second game 1) was a really good defender and 2) knew that move was coming, so would just be waiting for her on the right side. Once L did that move four straight times and the girl was just standing there, one step to the right waiting to cut her off. It was like L was caught in a loop.
Oh, and I got to help coach as the head coach was unavailable. I don't know any of the plays so just yelled "GET BACK" and "WHO ARE YOU GUARDING?" a lot. That's kind of fun, especially when these were "scrimmages" and not true games.
Now they have eight days off until the season picks back up again.