Holy shit!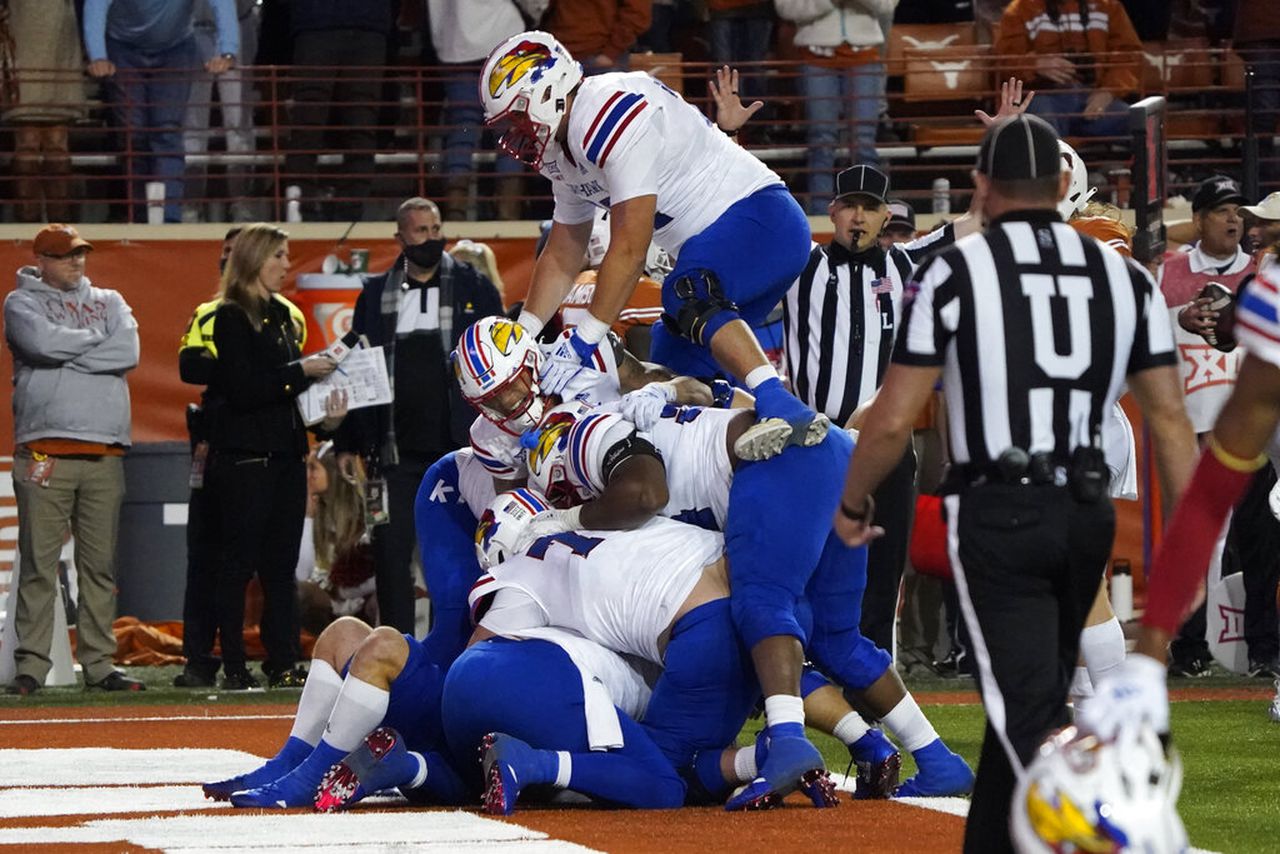 There aren't a lot of big, important, communal memories surrounding Kansas football.
For those of us who were in school in the early 90's, there was the Monte Cozzens game, when KU beat Oklahoma. For the few of us who stuck it out through the cold, there was the Tony Sands game.
The Mangino era brought an epic win over Nebraska, an Orange Bowl victory, and a game-winning, fourth down play against Missouri in the snow.
Since then, though? Nothing. When you average two wins a year over a decade, it's tough to make memories.
It doesn't matter than it came in what is likely to be a two-win season, against a mediocre, underachieving, injury-ravaged Texas team that seemed half checked-out mentally: Saturday's 57–56 overtime win in Austin was one of the biggest moments in KU football history.
The fact that's not even a question sums up how crappy KU football history is. So what? It is a game those of us who watched/listened/attended will never forget it.
A 31-point underdog, who hadn't won a conference road game in over 13 years, and who replaced its coaching staff after spring practice was complete, went down and whipped a team that has 52 four or five star recruits on its roster. KU, for comparison, has one such recruit on its roster, freshman running back Devin Neal, who probably only went to Kansas because he grew up in Lawrence. A team that, yes, had given Oklahoma a scare three weeks ago, but had been hammered in the two games since. A team that was starting a talented but still third-string quarterback because of injuries to the two guys in front of him.
Sure, make fun of us for getting so excited about winning two games this season, and beating the most overrated program in the game. We haven't had too many moments to celebrate wins since the Mangino era ended with a seven-game losing streak. This was like another Orange Bowl for us.
What a night it was! We do not have ESPNU, so I thought I would follow the game on ESPN.com early while I watched the Pacers and other football games on TV. I doubted I would have to give the KU game much attention.
A long drive and score, a strip-sack, another score and suddenly KU was up 14–0 and the text threads were blazing and my computer screen had my attention.
Texas tied it, KU retook the lead, and then I had to run out and pick up L from a friend's house. Which was ok, because I have Sirius in my car and could listen to the game. In the time it took me to get from the living room to the car, KU forced another fumble and quickly scored. By the time I got to the second stop light from our house, Jacobee Bryant was running in a pick-six to give KU a 21-point lead and I was screaming into my phone, trying to send a voice memo to friends.[1]
I got home at halftime and started scrambling to find the game somewhere. I pay for ESPN+, but since our cable package doesn't include ESPNU, I was blocked from the TV feed.[2] For some reason my car still has a bunch of Sirius stations I am not paying for and should not have, but when I launch the app on my phone those don't show up, so I couldn't listen there. I wondered if I should just go take a two-hour drive to listen to the second half.
Years ago I bought an audio subscription directly from KU to listen to all the games on my computer. This was back when the football team was decent and a couple basketball games each year were not televised. I couldn't recall if there was such a service anymore, but figured it was worth checking the KU Athletics page. Amazingly, they stream audio from games for free now! So I was able to listen to all of the second half and overtime. It would have been more fun to watch, but it did feel like back in college, when each Saturday we sat in our dorm rooms and followed road games on the radio, flipping up and down the dial to catch parts of K-State and Missouri games, too.
KU pushed the lead back to 21, and Texas started their inevitable, winning comeback. Or what I assumed would be an inevitable winning comeback. Because it was Kansas football, right? And eventually some of those four and five star recruits would show a little pride and do just enough for Texas to win.
KU made a horrible call on fourth down late in the fourth quarter, up 14, turning the ball over on downs. The call to go for it was correct: the KU D was not stopping Texas and they might as well try to get the yard. But calling a timeout and then sneaking it was plain dumb. A friend pointed out how many times in KU football history the team had come up a yard short on a huge play that turned the game. No one tracks these things, but KU has to hold the NCAA record for failing in those situations.
A few snaps later the lead was seven and we were cursing the decision. Another quick three-and-out followed by a bad punt put Texas in great position. Until O.J. Burroughs picked off a Texas pass in the end zone with just over a minute left.
Game over, right?!?!
Of course not. Texas had all three timeouts left, forced a worse punt, and scored with 22 seconds left to tie the game.
There was anger on Twitter. It was going to be just like two years ago, when KU went to Austin and went toe-to-toe with the Longhorns only to lost on a last-second field goal. I resolved to take solace from two terrific performances against the two most talented teams in the conference showing that Lance Leipold was getting things moving in the right direction. "Get some good linemen and let Jalon Daniels and Devin Neal cook next year," was my message to friends.
Texas scored easily on their overtime possession. And then they committed an unsportsmanlike penalty that shortened the field by 15 yards for KU on the ensuing drive. KU football getting a call against Texas late in a close game? This was unusual!
Neal banged it in to make it 56–55. I don't think there's a KU fan in the world who thought we should kick the PAT. Fucking go for it! There was nothing to lose.
What followed was a play that will live forever in KU football history. It was nearly 11:00 Eastern time. L was asleep. C was cleaning the basement after having friends over. M was out-and-about. S was sitting four feet from me, watching a movie with headphones on. When Brian Hanni yelled, "It's caught! It's caught! Kansas will win!" I let out my own yell, smacked the coffee table loudly, and then yelled again. The MacBook Air almost went flying.
AS CALLED ON KANSAS JAYHAWKS RADIO: pic.twitter.com/np3vb9EGih

— Timothy Burke (@bubbaprog) November 14, 2021
S gave me a disapproving look and went back to her movie.
Then, even better, walk-on Jared Casey, playing his first offensive snap of the season, is the guy who catches the pass? With his parents watching from the opposite end, recording it as they slowly realized he made the winning catch?
Raw video from my parents reaction on their son's catch @JaredCasey7 @JayhawkSlant @mctait @jessenewell @KU_Football pic.twitter.com/58mxu1UtnD

— Justin Casey (@jlcasey10) November 14, 2021
I mean, come on. Even the coldest, blackest hearted, KU-hating K-State or Mizzou fan can appreciate the joy in that moment.
What happened next reminded me of the night the Royals won the World Series in 2015. I listened to over an hour of postgame coverage (props to KU for including all of that on their feed). I un-muted the TV each time a highlight popped up on ESPN. I liked every fun, funny, and happy post that came through Twitter. I celebrated via text and Facebook messages with friends.
After only 21 wins in 11 seasons. After going almost L's entire life without a Big 12 road win; the last win came the day after she was born. After all the mediocrity and ineptness and terrible coaching and bad players and straight embarrassment. This felt bigger than beating Virginia Tech in the Orange Bowl. Or hanging 76 on Nebraska.
We all know it's not. But when you suffer this long, you'll make any positive moment bigger than it actually is.
KANSAS!!!!

— Bunkie Perkins (@BunkiePerkins) November 14, 2021
just woke up the dog

— BUM CHILLUPS AKA SPENCER HALL (@edsbs) November 14, 2021
KANSAS BEATS TEXAS pic.twitter.com/0eY34typaQ

— CBS Sports (@CBSSports) November 14, 2021
Hawks on Top pic.twitter.com/7Wxm9Lo8CW

— Carter Stanley (@carter_stanley) November 14, 2021
You vs the guy they told you not to worry about pic.twitter.com/kGjm4t2KtN

— Kansas Jayhawks (@KUAthletics) November 14, 2021
The big thing, though, is I felt hope for the first time since I can't remember when. It may be misguided, or more likely premature. This win was flukey, to be sure. TCU and West Virginia may both wax KU the next two weeks. But for the first time since Mangino left, it feels like the coach has a plan on how to get better and has buy-in from his players. There are a bunch of solid to good young guys on the roster. For the first time since maybe that Missouri game in the snow, it was Kansas who made the winning plays, not the opponent. The overall vibe around the program just feels different now. That vibe might be a tease, and we could still be years from it paying dividends.
But for one night in Austin – and in Indy, Kansas City, or wherever KU fans were watching from – we felt like we could see the light at the end of the tunnel we've been seeking for so long.