When I began this process last fall, Audi was at the top of my list. It didn't matter which Audi. The Q3 if I went with a subcompact. The Q5 if I went compact. The Q7 if I wanted to blow out the budget.
Once upon a time, say in the early '00s, Audis were my ultimate car, specifically a well-appointed S4. For years I've loved the looks of the Q series. We have friends who currently have three Audis in their family and zero complaints. A sister-in-law stored her A4 in our garage when she went overseas 15 or so years ago. I drove it once a week to keep the battery charged and really liked it. While Audis are fancy, I feel like they are at least 28% less pretentious than a BMW or Mercedes.
Three things changed my thinking, though.
First, Audi tweaked their body styling for the 2021 model year. To my eyes, the Q's lost some of their grace and elegance in the process.
Second, most car magazines/review sites seem to prefer BMW and Mercedes when ranking German SUVs.
Third, the website of my local Audi dealer is atrocious. There are constant nuisance pop-ups, pop-ons, and pop-overs. The basic design of the site is not user friendly. They also recently stopped posting pictures of every new car on their lot, instead using the same stock photo of an ugly green Q5 to represent the bulk of their inventory.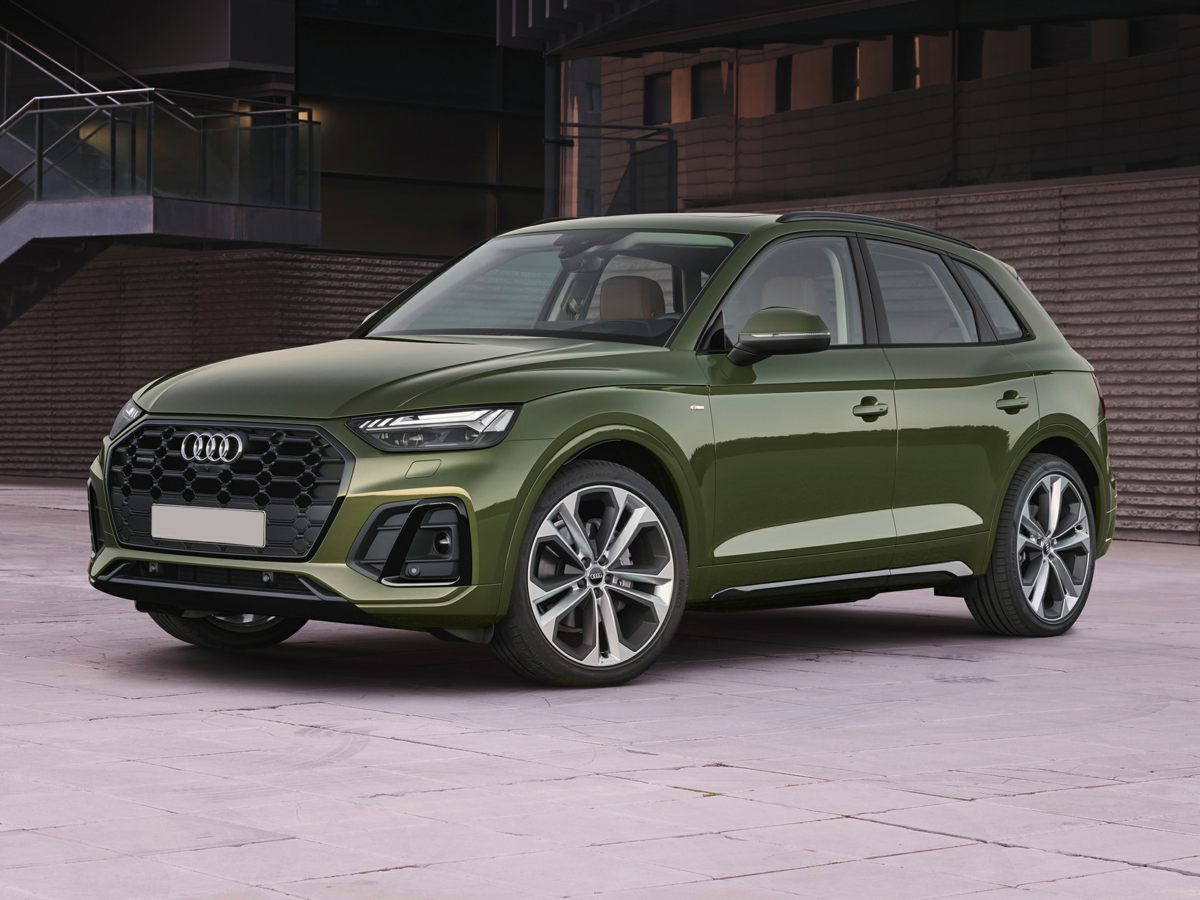 This is not the color I am interested in.
Why would you choose the worst color you offer to promote your car? Are you trying to scare customers away. "We only have ugly cars. There's a Volvo dealership to the right and a Lexus dealer to the left if you want something beautiful."
For much of the winter, I removed Audi from my list.
I eventually came to terms with the physical changes and realized that even though the Q5 often gets rated just behind the X3 and GLC, it was still near the top of the class and deserved a look.
Last Friday I took one for a spin. I figured it would just reinforce that the Mercedes GLC was the car for me. Funny how things work out…
My first two test drives covered the same route, a 10–15 minute jaunt through Carmel. I use a highway entrance ramp to accelerate quickly, whip through some roundabouts into neighborhoods to test cornering and the residential drive experience, then onto another ramp to return to the dealership via the highway.
At the end of my loop Friday my sales guy suggested we take one more loop so we could play with the car's driving mode options.
Nice!
These different driving modes certainly make the ride feel different. But in a 10–20 minute test drive, I can't tell if they make the ride better. While cool to have, I don't know that I would swap through the different settings very often.
My next observation may not make much sense. The Q5 is almost the exact same size as the Mercedes GLC. They weigh roughly the same. They have very similar engines, although with different transmissions (9-speed GLC vs 7-speed Q5). Yet the Q5 felt a lot more like a car than the GLC.
I know nothing about the mechanical side of cars. But my best guess is differences in the cars' drivetrains account for this. Both are all-wheel-drive. But the Audi handles torque much differently than the Mercedes and has more freedom in how it allots the power across the wheels. Maybe this makes it feel a little more nimble, especially in turns, and thus car-like? Or maybe my vertigo was acting up more during one test drive than the other and I literally have no idea what I'm talking about.
In this class, where the vehicles are all so close to each other, I think what I'm really searching for are the little variances that fit my needs best. The Q5 has several that jumped out at me.
The blind-spot indicators on my Tahoe are small lights built into the side mirrors. Lots of times I don't even notice that they are activated. On the Audi, they are large lights on the inside of the mirror frames. It is much more noticeable and, thus, useful.
The entertainment system is way more intuitive than Acura's. It isn't as attractive or filled with features as Mercedes', but it is dead simple to use. In fact, my sales guy challenged me to figure out how to do a few simple tasks while I drove. I was able to do them all immediately. While the Mercedes user interface may be prettier, the Audi gets things done quicker.
Audi has wireless Apple CarPlay and a wireless charging bank. No need to always keep a USB cord jammed into the center console, tangling with other things.
The Q5 allows you to open the back liftgate by swinging your leg beneath a sensor. Neither the Acura nor Mercedes I drove offered that option.
The Q5 has traditional tires rather than run-flats, and is equipped with a spare.
So where did the Q5 slot in after three test drives? Better than the Acura, obviously. In a bit of a surprise, it was right there with the Mercedes. I don't know why that was unexpected. Perhaps a lifetime of hearing that Mercedes makes some of the nicest cars you can buy, but rarely hearing Audi's name mentioned? Maybe Audi is a little more niche where Mercedes is more universally aspirational?
If you made a checklist of all the important aspects of the GLC and Q5 and rated them against each other, I think it would be very close to even.
When the comparison is that tight, it can come down to those small details I mentioned. As I went through my notes and watched some video reviews Friday night, it became apparent that Audi checked a few more boxes than Mercedes.
By the end of the evening, there was a new number one car on my list.