One last breather before the biggest and toughest stretch of the year, via a good, old-fashioned thumping of Kansas State.
I'm not sure why K-State decided to force the tempo Tuesday night. They damn near beat KU a month ago playing their normal style of ball. Why they thought they could come to Lawrence and win a track meet is baffling, and perhaps the final nail in Bruce Webber's coaching coffin.
(A quick aside about Bruce: as a KU fan I love making fun of him and his insecurities. But he is a good coach and K-State is a solid team. If not for Covid blowing through their team early in the Big 12 schedule, they could easily be in the conference title mix. I'm interested to see whether the K-State AD thinks he can get someone who coaches as well as Bruce but is more PR friendly and, thus, plays better to the public, or if he'll give Bruce a chance to coach this young roster one more time.)
To be fair, it wasn't a total disaster until the last ten minutes. Twice the Wildcats cut big leads down to single digits. I wonder if their pace on offense took away from their defensive effort, because KU got a lot of great looks and knocked most of them down.
We aren't here to talk about K-State, though.
---
I don't have any big observations from last night; you can't take much from a game like that because, as good as KU is on offense, they aren't going to shoot 64% very often.
So a few tidbits.
---
As tends to happen this time of year with seniors, I'm trying to enjoy what is left of Ochai Agbaji's KU career. He is having one of the most remarkable offensive seasons of any KU player in recent memory. Ochai is deadly from behind the arc, in transition, in the mid-range, attacking the hoop, and in set plays designed to free him up for lobs. He is as well-rounded offensively as any KU perimeter player of the modern era.
Ben McLemore and Brandon Rush are the closest comps for Ochai, and both his usage and efficiency numbers are beyond what those guys put up. He and Bill Self have made adjustments to get him better looks after his mini "slump" that came as teams clamped down on him.
It has been an amazing season, made even better by how unexpected it has been. I thought he'd be good this year. But 20+ ppg, conference player of the year, and likely All-American status? Never saw that coming.
---
Jalen Wilson's comeback this year has been great to watch. Going into such a funk just because he got a DUI on the eve of the season was weird.[1] His emergence has given KU a three-headed monster on offense.
I think it's weird that he can't jump, though. It makes it more amazing that he's grabbing over seven rebounds per game. There have been multiple times this year when he is wide open and you would expect him the throw down a big dunk. Instead he lays it up. Or, knowing he can't jump over an approaching defender, makes some crazy Euro-step that forces him into a tougher shot. I think he needs to get some of those weird shoes with the platform soles under the toes that are supposed to increase your vertical.
---
It has also been fun to watch Joe Yesufu figuring it out. He still plays about 10% too fast in half court sets, but he also looks more comfortable and is providing good minutes.
---
As it has been all season, the topic of choice on KU Twitter is Remy Martin. The current debate is whether he will play again or not. There is also lots of speculation about what is really going on, some suggesting he is healthy and has either bailed or he and Self can't agree to work together so they've agreed for him to be "injured." I have no idea, no inside dope from people in the locker room, so I'm not going to hazard any guesses as to Remy is really hurt or not.
I will, though, make a guess about whether he returns.
Since KU has been playing well, I can see Remy and Self coming to an agreement that he's going to take his time and target next week, when KU plays four times in seven days, for his next comeback. Ease him in for the two TCU games to give DaJuan Harris and Yesufu some relief. See how he feels/recovers and if he has any chemistry with his teammates. If it works you roll him out for the season finale against Texas and go from there, hoping he can provide 10–15 minutes off the bench in the postseason.
But if he doesn't play next week, he's done. And it is about more than his knee.
A weird ending to a brief Jayhawk career.
---
Last night's uniforms? I hated them upon their Twitter reveal. But, to be fair, similar ones Nebraska revealed a few weeks back had already affected my opinion.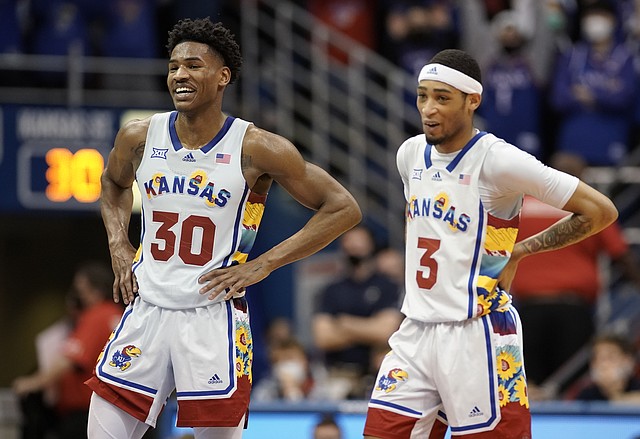 I thought they looked better on TV, at least in the wide shots. Up close, when you saw the sunflowers across the chest and on the side stripes, I did not like them. Another miss for Adidas and whoever at KU came up with these.
As a uniform guy, I did love one element in them that I think KU should use going forward.
First off, Adidas needs to scrap these random one-off uniforms. It's fine to wear a throw-back uniform occasionally to celebrate a specific team. But I hate these over-designed ones that we see once before they are forgotten. They can't generate enough sales revenue to make them worth it.
Red uniforms are always a hot-button issue with KU fans. I used to be a big proponent, but have softened in recent years as KU has expanded its uniform options.
My big idea takes an element of last night's set and KU's history: have a home alternative uniform that has red letters, numbers, and accents. KU used to wear uniforms with red details rather than blue as their standard uniforms. That's what Clyde Lovellette wore when he led KU to its first NCAA title, and KU has honored those a few times. Jo Jo White wore red letters. Blue is KU's brand, so the Jayhawks should generally have more blue than red in their uniforms. But pulling out throwbacks with red detailing say four times a year would be both historically accurate and pretty dope.
Or just bring this style back and solve all the uniform problems.
Now it's on to Baylor in Waco, the two-fer with TCU, and hosting Texas. All in a calendar week. 2–2 gets the Jayhawks no worse than a shared Big 12 championship.