You might have heard that the Kansas Jayhawks won the NCAA men's basketball championship on Monday. I didn't want to let the occasion pass without sharing some, well a lot, of thoughts. These should be super disjointed as they were assembled in various moments and in different stages of sobriety.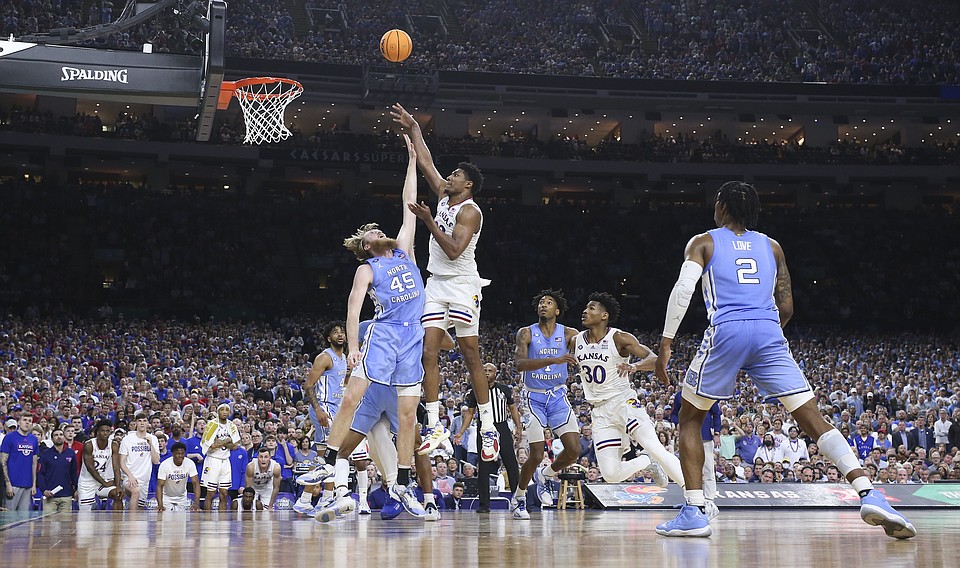 I will the answer the question I got from several people first: no, I did not turn the game off. Come on, this was KU basketball in the national title game. I might go through a few stages of my sports pouting, but I wasn't turning it off. Not until the cause was hopeless, at least.
What I did do, though, was mute the entire halftime show and listen to music while I sat and stewed. I also started banging out some thoughts for my sad, post-loss blog entry. I wrote about how the lack of an athletic big finally caught up with KU. How KU was cursed in the Superdome (this would make them 0–3 in title games there, plus another national semifinal loss). And how despite the bracket breaking their way, they still ran into one of the best "on a hot streak" teams in tournament history.
Here's the thing, though As frustrated as I was at halftime, with KU down 15 and thinking that was too big a deficit to make up, I wasn't totally without hope. Carolina hit a bunch of tough-ass shots in the first half and cashed-in 11 free throws. It's not like they were playing lights out. They were just getting rebounds and getting fouled. Meanwhile KU was missing a ton of shots right at the rim. It wasn't too tough to see Carolina starting to miss the ones they had made, and KU making the ones they had missed.
But, still, 15 points is a lot. You figure Carolina can play kind of crap and still hold on to win.
I did though, and this is key, change seats.
Just as I did when KU trailed Kansas State by 16 at halftime in January, I moved from the couch to the chair next to it. And I cracked open a beer. You all laugh at me, but didn't KU play better from the opening seconds of the second half? Prove to me that I didn't play some, even tiny, cosmic role in that. YOU CAN'T, CAN YOU????
---
In a game like this it's tough to pick a key, or even favorite, play. Was it the DaJuan Harris to David McCormack lob on the first possession of the second half, that set the tone for what was to come? Christian Braun causing havoc and running it down the Tar Heel's throats? Jalen Wilson's and-one that put KU up six? DaJuan's sick floater he kissed off the backboard as he was flying away from the basket? Remy Martin's RIDICULOUS step-back three with about 3:00 left?[1]
I really hope this shot doesn't get lost in the chaos of that 2nd half.

Remy is 6'0" on a good day. He hits this over Bacot who's 6'10"

Absolutely filthy.pic.twitter.com/79NLtyr67O

— Nick Schwerdt (@nick_schwerdt) April 7, 2022
Those were all great. But I think the most memorable shots have to be McCormack's two shots in the final 75 seconds. Actually three, since the first of his made baskets in that sequence came after grabbing his own miss and throwing it in over two defenders. The second was calm, cool, and a dagger. It was the more aesthetically pleasing, as well. He looked so confident on it, pumping his fist after like it was something he did every game.
One of my brothers in Jayhawkdom, E$, asked an interesting question three weeks ago, when the tournament began: Had there been a worse player to ever start for KU than McCormack. I think this was a little harsh, as Dave was clearly struggling physically in the Big 12 tournament.
But Dave had always tantalized and teased and flummoxed. He would do things no other big man in the country could do. Then he would miss five straight baskets. Or clank a dunk off the back of the rim. Or lose rebounds without being pressured. Or dribble the ball off his foot. Or have games where he played 20+ minutes and barely made an impact on the boxscore. And so on. He got yanked from the starting lineup as a senior!
He had a lot of talent, but also some physical limitations that seemed like they would prevent him from ever being a great player.
He also played with the curse of coming after the most dominant big man of the Bill Self era, Udoka Azubuike. Dok had his own issues, mostly with injuries and free throws, but he dunked everything, seemed to know his limits, and never got stripped by a guard buzzing through the lane.
This year I came to accept Dave for what he was, and be thankful for the positive moments.
But dude put it all together the last three games of his career. KU fans kept waiting for Ochai Agbaji to take over. But maybe Dave was the senior we should have been focusing on. Dave played the four or five best games of his career over the last month: the regular season finale against Texas, the Big 12 title game against Texas Tech, the Elite 8 game against Miami, and then the Final Four games. Hitting the two shots that won KU the championship turned him into a legend, and fans that he drove crazy for four years will laugh about the ways he frustrated them if they speak of them at all.
---
Speaking of Ochai, I was getting all kinds of bad vibes as he kept clanking free throws Monday. It felt like Nick Collison in 2003, a guy who was playing his ass off, but then kept missing freebies. In the same damn building. Seemed like bad voodoo, and in the wrong city to have bad voodoo.
Och didn't have a great game. I don't think he should have won the MOP. But somewhat lost in the postgame analysis was how he absolutely shut down Caleb Love, who had been the engine for UNC's March run. Love scored 13 points on 24 shots. TWENTY FOUR SHOTS!!!! That wasn't all Ochai, as KU switched a lot. But it was mostly Ochai.
Ochai was also responsible for the most powerful postgame moment, when he raced over to his family and greeted them. He burst into tears and hugged his mother and sister as his father screamed, "YOU'RE A CHAMPION, BOY!!!" over and over. We don't often see that side of players, when they get a chance to celebrate with their families and all the emotions that went into getting to that moment come out.
This. No words. Just watch. pic.twitter.com/kgZba9Lk3W

— Kansas Men's Basketball (@KUHoops) April 6, 2022
Remy fucking Martin, man. What a wild ride that was. He gave it all to us in the title game. An awful first half that featured forced shots and getting lost on defense. A second half that included three clutch 3-pointers, a sweet driving layup, and a potentially game-saving block. Fourteen points, a title, and redemption for a regular season that never met expectations.
---
This was a massive win for Bill Self, in so many ways.
It makes him the most successful coach in KU history.
Two national titles is a big fucking deal. With K retired – thank God! – Self joins Jay Wright and Rick Pitino as active coaches with multiple titles.
The win balances out some of those bad March losses in his tenure at KU. At a minimum, his post-coaching biography will say "two time national champion" before any mention of those unmentionable games.
I think it also mitigates, in some ways, the effects of the looming NCAA penalties. Not that I want to get into that now.
Most of all, the win proves what a great coach he is. I can name at least six, and more likely 7–8, of his teams that were better than this one. Or at least more talented.
Two players on this team were top 50 recruits. Three of the starters were all ranked below 100 in their senior classes. One of his prime bench players was ranked in the 80s, the other well below 100. There wasn't an Andrew Wiggins or Josh Jackson on the team. Hell, there wasn't a Wayne Selden or Kelly Oubre. Honestly, this was one of the least talented teams of his 19 years at Kansas.
They guys he had, though, are the ones who hang around for three or four years and understand how to play together. How to not panic when things go sideways. Even the two sophomores, Wilson and Harris, had redshirt years because of injuries and academics, thus a year of at least absorbing how Self wants to play and what it takes to win in the Big 12.
Self has turned KU basketball into an absolute machine. Sixteen conference championships. Eleven conference tournament titles. Ten number one seeds. Nine Elite 8's. Four Final Fours. Plus there's the big old asterisk of the 2020 team, which was likely one of two or three best teams ever. And now he has two titles.
Like every coach, Bill Self has his March failings. But with two banners to his name he's legitimately one of the all-time greats.
---
I found it incredibly odd that Kansas and North Carolina had two serviceable big men between them. Ten years ago the teams would have run waves of bigs at each other. The game has changed and the talent is spread a lot more widely than it used to be.
---
I don't know what's more ridiculous: a 16–0 run in the national title game, or that same team losing because they were on the wrong side of a 31–10 run.
31–10!!!
---
Not going to lie, I just about died when DaJuan Harris stepped on the sideline as KU was inbounding with 4-ish seconds left. Same fucking building as Freddy Brown and Chris Webber. SAME FUCKING OPPONENT!!! First the free throws and now this??? I was legit freaking out.
My Carolina friend wished me congrats before the play, and I told him to hang on to see if we got the ball in play. KU had struggled against pressure all year. KU ran the PERFECT play, only for DaJuan to step OB. Sheesh.
Thankfully it didn't end up making a difference. I'm thrilled the game did not go to OT. Both teams faced foul trouble, have short benches, and Carolina players were dropping like flies. We did not need to see KJ Adams and whoever his UNC equivalent is battling it out for the national title.
---
Christian Braun played PERFECT defense on Caleb Love on the game's final shot.
---
Bill Self warned us that this was coming three weeks ago. During the Big 12 tournament, he said that this is not his best team, but they think that they are. I had not heard that from him all year, and found it fascinating. This team did play with a swagger that seems a little above their heads, but I never really noticed it until a month ago. I heard the Lawrence Journal-World's Matt Tait on a podcast last week say that Jalen Wilson believes he's a lottery pick, even though he's not. I mean, the kid is 6'8" and can't dunk, but he thinks he is the best player on the court. I LOVE irrationally confident players like that. They can drive you crazy, but when everything comes together, they do amazing things.
This team had all kinds of limitations. But both individually and as a unit, they ignored those barriers. They just went out and balled and expected to win. They didn't get rattled when they gave up 16 straight points in the title game. They knew if they just tightened some things up, played a little D, and stopped missing layups, they'd be fine.
Which seems insane if you watch them. They are a bunch of nice players, with one who can be all-world when he's hitting shots. But this team? This is the one that wins Bill Self his second title??? That just seems stupid. It should have been the 2010 team, which was arguably as good as the 2008 squad. Or the 2011 team, that had the entire bracket wide open for them and lost to a shitty team. Or the 2017 team that was a nearly perfect combination of talent.
---
I mentioned in my Tuesday post that I lost my mind a little during the comeback and in the game's closing minutes. C was the only other person in the house that was awake at the time. She was in the kitchen to get a snack sometime late in the game, and was there when I ran upstairs to wake L up (more on that in a second). She waved and gave me a big thumbs up and said "DUBS!!" Later she told me she was following the game on her phone. She would hear me scream in the basement and then her app would update the score a few seconds later. She doesn't know much about hoops but seemed to enjoy this little moment that was all hers.
L told me before she went to bed that she wanted me to wake her if KU won. When TBS went to its first commercial after the final horn, I raced up to her room, opened the door, and shook her. But she was dead to the world. She grunted a couple times and rolled over to get away from me. Tuesday morning she said she had no memory of that.
---
Speaking of TBS, Bill Raftery is the only person on the broadcast team worth a shit. He gets a little schticky at times, but it's a good schtick. And I think at times he's too interested in bantering with his partners. But despite being like 97 years old (or 78) he sees things right away. He notices when teams go away from something they've been doing all game. He'll call out a defensive miscue or someone who makes an adjustment that blows up a play. There were like five times in the second half where he called something out before it happened. Sometimes it takes me three possessions to notice a team has switched to zone, and that's sitting on my ass in front of a big TV that shows the entire court.
Meanwhile Jim Nantz is giving fouls to the wrong player, trying to turn everything into a pun, and generally making it obvious he's more interested in getting to Augusta, GA than the game in front of him. I've already discussed Grant Hill; no need to pile on.
---
I posed the question to KU friends, how much national champions gear is too much? I've made three orders so far, two for me from different companies and one for the girls. I think it's weird that national champs gear is produced in limited runs, at least from national companies. Some shirts were already sold out in most sizes by Wednesday morning. Seems like you take as many orders as you can and work to fill them. I'm sure in Lawrence/KC you'll be able to get things in most sizes for months.
---
I should get to some ending summary, for any of you who were patient enough to get this far.
I did not see this coming. KU was a number one seed only because of its schedule and winning the Big 12. I would have been ok with a Sweet 16, thrilled with an Elite 8. But as those great KU teams that came up short proved, you don't have to be the best, most complete team in the country to win the title. You just have to beat the six teams you face. Do that and your warts get forgotten and you become legendary, with your team represented in the rafters for all time.
Championship teams always carve out some identity that defines their legacy. I'm still struggling to figure out what this team's is. There were two big comebacks in the tournament, but they also jumped all over Villanova early. It's not like they shot lights-out from 3, or were 1983 Houston/Lousiville, dunking on everyone.
I guess what I'll remember about this team is their toughness. They refused to wilt. Which, in a lot of ways, makes them the perfect Bill Self team. He harps on not being soft. The 2021–22 Kansas Jayhawks had plenty of soft moments over the first four months of the season. But after the calendar flipped to March, there wasn't a tougher team in the country.
To close, some of my favorite Tweets of the past few days:
Christian Braun just looked me straight in the eye and called me a bitch

— Eamonn Brennan (@eamonnbrennan) April 5, 2022
REMY MARTIN IS TEN FEET TALL AND HIS BLOOD IS MADE OF LIGHTNING BOLTS

— Shea Serrano (@SheaSerrano) April 5, 2022
OMG !!!!!!!!!!! OMG !!!!!!! 🥲🥲🥲 I'm not crying .. you are 🥹🥹 !! ROCK CHALK ! 💙❤️

— Devonte Graham (@Devonte4Graham) April 5, 2022
Ad Astra Per Aspera, bitches

— Rany Jazayerli (@jazayerli) April 5, 2022
Just glad another bird mascot won tbh

Congrats, @KUHoops 👏

— Saint Peter's Men's Basketball (@PeacocksMBB) April 5, 2022
Legends pic.twitter.com/B4Cow29YnR

— Jonah Reynolds (@Jonahsterling26) April 5, 2022
like I said.. that's a lot of rings for a team that needs to get more athletic 🤣

— Christian Braun (@Ballin25Braun) April 5, 2022
— No Context Kansas Basketball (@NoContextKUBB) April 5, 2022
Don't let Kansas winning the national title in basketball distract you from the fact that Kansas beat Texas in football in Austin

— RedditCFB (@RedditCFB) April 5, 2022
Kansas became the first team in the Kenpom Era (2002-present) to win the national championship while finishing the season with the toughest adjusted strength of schedule.

What a team. #KUBball #RockChalk pic.twitter.com/yefbgWy3MY

— Ben W. (@twocoach) April 6, 2022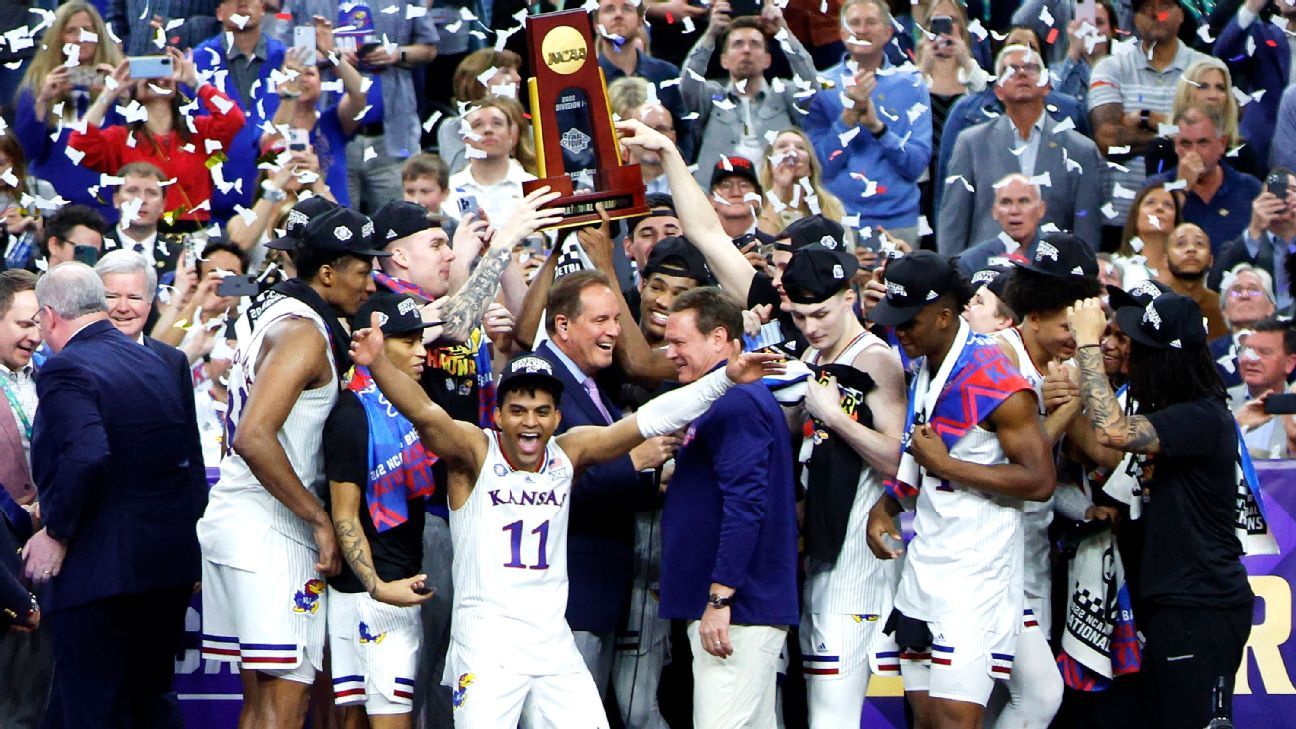 ---
That was the ballsiest shot in KU history since Ron Kellogg's baseline jumper to beat Oklahoma in the 1984 Big 8 tournament championship game. And Remy's had a lot more sauce to it.  ↩