Beat the Devils – Josh Weiss
The genre of alternate histories can be very fun if done right. I recently ran across a list of best recent alt history novels and was amazed by how many were centered on World War II. I guess that era has a lot of opportunities for writing about What Ifs. Or people are just obsessed with Hitler. Still.
This takes a different tack, and does so well. It takes place in 1950s America, deep into Joseph McCarthy's second term as president. His brand of anti-communism/anti-semitism/hyper-patriotism has taken over nearly every aspect of American life. What we think of as the FBI today has become a force that roots out any communist sympathizers, and picks on Jews when they can't find any commies. The media is totally under government control, and is all about advancing McCarthy's agenda.
Morris Baker is an LA detective who survived the Nazi concentration camps in Czechoslovakia. As a Jew he is constantly under suspicion, but counters that by being one of the most effective detectives in the LAPD. Until he becomes the patsy government forces are using as an excuse to crack down further on Americans' rights.
Weiss gets to the formula that makes these kinds of novels work. He sets up a tantalizing alternate universe that doesn't seem too far fetched. Hell, there are a lot of elected officials in our country at this moment who are behaving very closely to the McCarthyites of Weiss' book. But he spends more time on a pretty fun and effective mystery than on spelling out the exact details of his universe. When the reader wants more details, you've done your alt history right.
There is a second Morris Baker book that I will for sure be reading.
---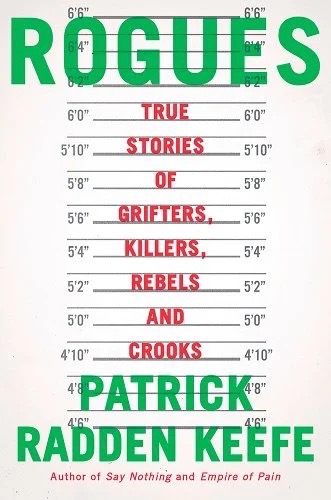 Rogues – Patrick Radden Keefe
A collection of Keefe's long-form work, mostly for The New Yorker. They are almost all great, and left me fascinated about the process of spending months/years on a subject then turning that into a piece that can be knocked out in 30–45 minutes. That's the kind of stuff I aspired to do nearly 20 years ago when I went to grad school, but my brain could never figure out how to construct.
---

The Shards – Bret Easton Ellis
I loved, loved, loved the cinematic interpretation of Ellis' American Psycho. I thought it ridiculously funny in its skewering of late 1980s Wall Street culture. The key was I didn't take it too seriously. I know a lot of people hated it, and many more hated Ellis' original book.
I think I've only read one of Ellis' books, probably 20+ years ago, and as best as I can recall did not love it. I heard a lot of people very excited about his newest book, which went back to his high school days in the early 1980s and the world he grew up in in super privileged LA. I let that enthusiasm by others draw me into it.
That was a mistake.
I did not like this at all. If I wasn't stubborn about getting so deep into a book and not stopping, I likely would have not wasted an entire week reading it.
I have no issue with Ellis' graphic sex and violence. I mean, it is a bit much. Or a lot much. But after a couple hundred pages I was numb to it.
What I hated was how long it took him to get anywhere. Entire chapters that took 10–15 minutes to read, were about the minute details of one conversation. Or of his thought process in a specific moment. It reminded me of a Karl Ove Knausgard novel, without any of the beauty or redeeming moments.
I pretty much hated every character. I though the plot was dumb. I did not like the twist at the end, which seemed forced and an effort to rescue a story Ellis knew was a failure.
I occasionally give books my highest recommendation. I give this whatever the total opposite of that is. Stay away.
---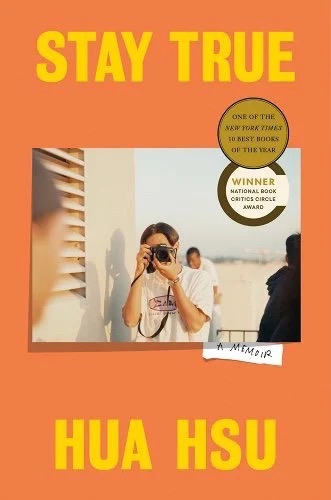 Stay True – Hua Hsu
This was a wonderful little memoir, written by a Taiwanese American. Although checking in right around 200 pages, Hua covers a lot of ground.
Ostensibly it is a straight memoir about his high school, college, and grad school years in the 1990s. He was your original California slacker who still managed to get good grades while going to Cal and then Harvard for his Ph.D. He was often more interested, though, in ridiculing the music tastes of others (he was into Pavement and Nirvana and couldn't understand how someone could like Pearl Jam and Dave Matthews), and otherwise looking down on people who didn't match his tastes. A very '90s attitude.
Once you get past those pop culture details, though, the book is much more about defining/discovering identity. How does he fit in with his parents, who are from Taiwan and eventually move back there, when he feels thoroughly American? Why do people insist on calling him Asian American when he feels distinct from both his classmates who are immigrants and from his Japanese American best friend whose family has been in the States for generations? What is the proper role of the non-White activist, to tear things down or try to repair them from the inside? What is friendship, and how can men communicate with each other? What is a sellout?
And so on. Although I'm obviously not Asian, his broader concepts took me back to my life in the '90s, when I and my friends were all trying to figure out who we were as we got through college and entered adult life.
It wouldn't be a book about the '90s without some kind of tragedy, and when his best friend is murdered in a random robbery, Hua is forced to consider mortality, America's gun culture, how decisions made in the spur of the moment can have lasting effects, and grief. Oh, and guilt, of which there is a particularly heartbreaking example.
The best memoirs open your eyes to perspectives you aren't familiar with while also connecting with your life. Stay True hits every note of that requirement perfectly.