It was Adult Fall Break time for S and me, the first time we've done this in a couple years. This was for a medical conference, the first time we've done that since before Covid. We spent Thursday through Sunday in Clearwater Beach, FL, staying right on the beach. Like in a hotel, not in a tent or something.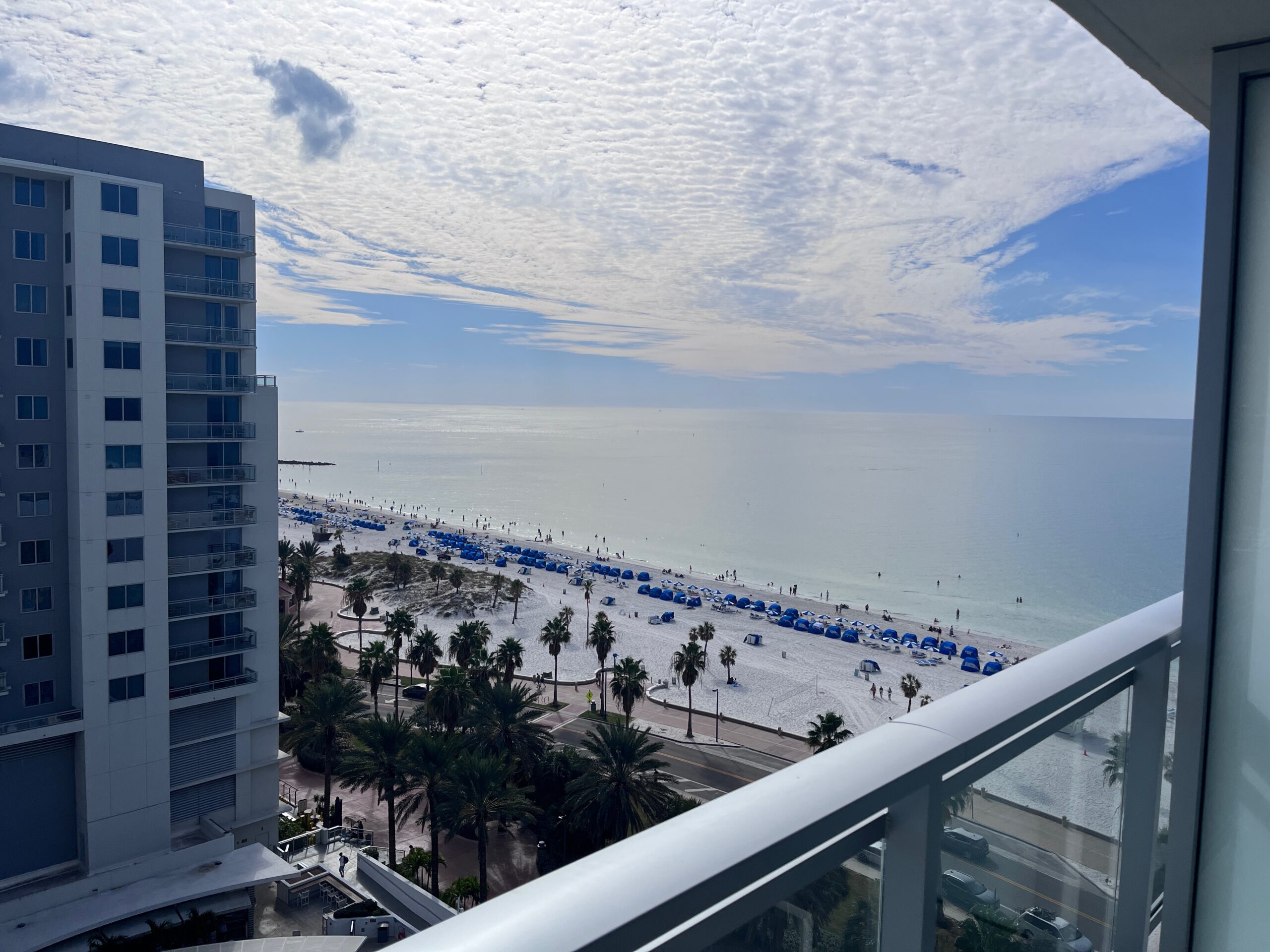 The weather was perfect, low 80s each day. Someone told us it was a little warmer than usual for this time of year. I did not complain. Being off the beach we always had a nice breeze so it never felt too hot. We go back to the Tampa area in four months for spring break. Really hoping we get weather as good as we had this weekend.
Our trip was pretty casual. S did the morning education sessions. I took a couple long walks, read a lot, and generally killed time until she was done. Then we'd head down to the pool where we met up with friends and had a few drinks, followed by an early dinner each night, then we were old people and usually asleep by 10 and awake around our normal time well before 7. Kind of lame but also pretty relaxing.
A few assorted highlights from our stay.
There is a Hulk Hogan store and museum in the main drag where a lot of shops and restaurants are. Sadly I walked by before it was open, brother.
For breakfast Saturday we went to this cute little place I had found ahead of time. We walked in and the hostess/waitress was wearing a KU shirt. We Rock Chalked each other – I was wearing a KU shirt as well – and later learned that she grew up not too far from where I went to high school, although probably a few years ahead of me. I was hoping that meant good things for the football game that day. Alas…
There was also a big CrossFit competition in a little park right north of our hotel. I hung out and watched a bit of it on my walk Saturday morning. That stuff is intense. And the competitors are insanely fit, but in all body types. Made me feel real good about the three-egg omelette and three pieces of toast I had pounded for breakfast.
I ate a lot of shrimp and grouper over our three days.
We watched three gorgeous sunsets, but just missed sunrise each day.
Our travel was easy both ways, other than some two year old kicking the shit out of the chair next to me in the Tampa airport and his parents just sitting there and watching him. Finally after half an hour the dad said, "Ok, buddy. That's enough." Not sure what their deal was, they decided to come sit next to me, but more evidence that people are the worst.
I decided I really like taking trips in November, especially if we go someplace warm. In recent years we've done Tampa, Italy, Hawaii, San Antonio, and Phoenix after November 1.[1] They are nice breaks from the growing midwestern chill – although it was 78 in Indy last Wednesday – plus as Christmas decorations start to appear it feels like an informal start to the holiday season.
Some sports happened while we were away. Let's bullet point them
In high school hoops, JV and varsity both got crushed Thursday by a really good program. JV lost by 17, varsity by 19. L said she played pretty much the entire JV game and was shooting a lot, but not hitting. She scored four. Rudely no other parent kept complete stats for me and shared them. She's been frustrated by some of her teammates' focus and dedication in practice. I told her to keep her head down, keep working hard, and it will pay off. Not coming out of the game is a sign her coaches trust her. Her next game is this Friday.
In high school football, CHS played an amazing regional final against Ben Davis, losing 27–24 on a late field goal. CHS gave up a pick-six in the first half and fumbled at the BD one in the second half, which was kind of the ballgame.. They came back from 10 down twice to tie it. Might have been better they lost since their quarterback got hurt late in the game. He played through it but not sure he would have been ready for Center Grove this week, and CHS did not need to play the three-time defending champs with a 5'7", 140 lb backup running the offense.
Speaking of backup quarterbacks, I was able to watch the first half of the KU-Texas Tech game Saturday. We discovered why Jason Bean avoids contact, and that third-string quarterback Cole Ballard, a walk-on freshman from the Indy area, is actually kind of decent. Hell, he played amazing for someone in his situation. KU played better once he came into the game, but that was more about adjustments on both sides of the ball than anything he did. The Jayhawks really should have won, which is amazing when the third stringer plays three quarters of the game and KU was getting run over in the first quarter. Another sign of how far the program has come that fans were upset losing this game under those circumstances. Bad time for the injury, with K-State coming to Lawrence next week. That's not a team you want a walk-on freshman facing. But maybe you play Ballard anyway then hope Bean is healthy for Cincinnati and try to get win #8 there?
I was able to watch a good chunk of KU's manhandling of Manhattan Friday night. Not sure KU fans should get too up after two blowout wins over weaker opponents last week. Just as we shouldn't have been too down about how the Jayhawks looked in the scrimmage against Illinois. Tuesday night against Kentucky will tell us more than any of those earlier games.
M went to her first UC basketball game Friday. She got good seats and they won, which was cool.
As mentioned, I read a lot over our trip, finishing one book and knocking a ton of stuff out of my Instapaper queue. Be looking for a links post sharing some of those articles soon.
---
We also did Chicago one year in December. Although the holiday decorations were in full force, that wasn't enough to make up for the wind chill in the teens.  ↩