FNL
Regional Friday in Indiana with teams fighting to make the final four in their respective classes.
For the second time this year Cathedral traveled out west to Brownsburg, where they lost their only game of the season, 42–35, back in August. They trailed by 21 much of that game and only a furious, fourth quarter comeback made it close.
The wind was blowing again Friday and that had a huge effect on the game. It also helped that both teams were dialed in on defense. Each side missed makable field goals in the first half because of the wind. Brownsburg capitalized on the CHS miss just before halftime and took a 7–0 lead into the break.
The Irish scored on their first possession of the second half. The teams traded punts. BHS missed another field goal. M's boyfriend pounced on a loose ball, giving CHS a short field. M's grade/middle school classmate, who is the starting running back, pounded it in from one yard out to complete the drive, and they led 14–7 going into the fourth quarter.
The Irish ran clock much of the fourth quarter but were stymied by going into that stiff breeze. But the defense held every time Brownsburg had the ball. The Bulldogs got their last chance near midfield with under 3:00 remaining, but without any timeouts. The drove, had fourth and goal with under 20 seconds left, but two Irish DBs knocked the potential tying pass down.
That gave Cathedral their first-ever regional title in class 6A. Their reward: a rematch with Center Grove next week in semi state. That game will be played at Cathedral's "home" field, a field Center Grove still bitches about having to play on a year ago.[1]
I had to go pick up C and some of her friends who went to the game. I planned to get there in the fourth quarter and listen on the radio. Maybe I would walk over and sneak into the stadium if it was close. The windchills were down in the 20s so I kept my ass in the car with the heat on. Only problem with that plan was that, in the final minutes of the game, the radio feed kept cutting out. I missed multiple plays because the of broadcast going completely silent. Two of the plays I missed were fourth downs. That added to the stress of the listening experience. All the girls were completely frozen afterwards so I chose wisely.
A couple funny stories from the drive home.
While discussing the game they were talking about how bad the kickers were. I told them the wind was a big factor and that the radio guys said the CHS holder had saved his kicker once by taking a bad snap and getting it down in time for the PAT. I heard one of the girls mutter, "I don't think the hold has much to do with the kick."
Well ok then…
For some reason C and her friends started talking about an Elton John song. During the discussion one of the friends said, "I always get Elton John and Elon Musk mixed up. Elton's the singer, but he also invented the rocket, right?"
If I had a drink in my mouth I would have spit it out. There was some discussion and finally C asked me who was who. I gently told them that Elton was indeed a singer, and he sang about a rocket, but was not, in fact, the man who invented the rocket. Then one of the girls piped up, "Oh, Elon Musk owns Space X, right?" They laughed which allowed me to laugh, too.
---
Kid Hoops
It was CYO tournament time Saturday. We opened play against St B's, who beat us a week ago by two. They went undefeated in the regular season, but we felt like we cracked their code a little in that game. We were going to let them shoot from outside but take away the lane and then concentrate on not turning the ball over after rebounds.
We had two practice this week to prepare. In the first, as usual, some of the girls were messing around and L was not having it. When practice was over she took the players into the locker room and told them, "I'm not losing in the first round of the tournament again! Thursday everyone needs to pay attention and stop messing around. We can beat St B's if we focus."[2]
Damn, her first players-only meeting!
One of the coaches snuck in and reported she heard one of the other 8th graders say, "Everyone needs to turn their ADHD off!" Hard core!
Saturday we led 6–5 after one, 14–9 at halftime, and then really took off. We out-scored them 10–3 in the third quarter. In the fourth St B's just chucked and chucked and chucked to try to get back in it. We got a couple runouts, hit a couple free throws, and closed it out 32–18. What a win! Our girls were composed (for the most part) and made St B's panic instead of us.
The win was especially big for one major reason: L injured her knee in the second quarter and barely played in the second half. We're not sure what she did. I heard the coach next to me say "Oh shit!" and looked up to see L wincing and grabbing her knee just before halftime. At the break we had S run over and take a look. L said it felt like it needed to pop but that she hadn't gotten hit or landed funny. She started the half on the bench, went in for a few minutes, but asked to come out and never went back in.
The knee wasn't immediately swollen, S couldn't find anything structurally wrong, and L passed every ligament test S could whip up at home. So we are hoping it is just some tendinitis and it being a new sensation freaked her out. But it is worrying. Especially with (potentially) two more games this week.
The great news was that we handled St B's pressure (for the most part) without L for nine minutes. We don't have another true point guard so any kind of pressure is always an adventure when L is on the bench. It wasn't always pretty, but we went from +10 when she sat down to winning by 14.
When L was still in, there was a dead ball where a referee called her and a St B's girl together and talked to them for a moment. When they separated L had the strangest grin on her face, like "Why was he talking to me?" It was our ball so she dribbled up the court, that girl picked her up on D, L crossed her over, took her into a screen, and the St B's girl ended up on her ass. I'm not sure if she tripped or if she just hit the screen weird, but it was hilarious that happened right after their conference. After an offensive rebound on that possession, L got the ball in the corner and drained a 3 over this girl, her only basket of the day. She had the biggest Eff You grin on her face as she got back into the defensive end.
Later she told us that girl wouldn't let go of the ball after the whistle when L was trying to give it to the ref so we could inbound. L yanked it away, the girl fell down, and L tried to help her up. But she slapped L's hand away. The ref was telling them to stop fighting for the ball when he blew the whistle.
Whatever happened to L's knee happened shortly after that, so I'm hoping it wasn't some kind of karma thing.
On to the final four. Monday we play a team we did not play in the regular season, St J. They also went 4–3 in the regular season, losing to St B's by 12. They also beat a team we lost to. We beat them last year in a very close game. So hopefully an evenly matched game. And hopefully L is ready to go. We will accept all prayers and positive vibes for those willing to share them.
In the quarterfinal before us St L, who we crushed last week, was playing St N, who beat us in the first game of the year. We walked in at halftime and St L was up by 11; we heard they had been up by 16. But St N has the best player in CYO. And she WENT OFF in the second half. St N's scored 30 points in those twelve minutes. She had 22 of them. She dished out two assists. The other four points came from the free throw line by girls who got fouled after that girl's passes. She will be a problem if we are lucky enough to face them Thursday.
Update Monday morning L's knee was swollen and sore. Not promising for tonight. 😬
---
KU Football
Well it had to happen: a dumb loss. Yes, Texas Tech beat KU 43–28, which seems comfortable. But it still felt like a game KU should have won and pissed away.
Another bad start on both sides of the ball, digging a hole they never quite climbed out of. Although the defense adjusted and played well in the middle quarters, they still struggled giving up big plays all night. I don't know if that was an issue of scheme or personnel, but it killed KU. The tackling was often very poor; they missed more than twice as many tackles as they have averaged through the first nine games. On offense Jason Bean's limitations were clear. He made some huge plays. But also missed some easy plays and made a couple horrible decisions that ruined KU's chances. Throw in two missed field goals – both off the right upright! – and it was a thoroughly frustrating night.
Devin Neal had another huge game, which was cool. I get how you ride the hot hand but it's a little concerning that no other RB got a carry until the final possession of the game. Someone else needs to be able to spell Neal for a play or two, as he was looking tired late. And that was before Bean nearly got him killed with a bad pass.
Two really tough matchups left for the Jayhawks. Ultra-talented but forever disappointing Texas next week. The Longhorns will no doubt be looking to avenge last year's overtime loss, plus they lost a massive game to TCU Saturday. Then a trip to Manhattan for the regular season finale against K-State, who have the inside track for a Big 12 title game appearance. At this point I'm just hoping all the important players stay healthy so they are available for the bowl game. Another win would be cool but my confidence in getting one is pretty low.
---
Colts
So maybe hiring Jeff Saturday was the right move? Or at least that's what a few local were loudly proclaiming last night, after the Colts somehow managed to beat the "mighty" Raiders. I had to unfollow one local media personality because they were being so over-the-top in their blasting back at everyone who criticized the hire last week. If this person truly has this much passion about the subject they need to dial it back. I think it was, likely, more an effort to get in/stay in the good graces of Saturday and the Colts org. But I'm a cynic…
Anyway, not a great game, by any means. But it was enough. It sure helped to being playing the Raiders, who might have the worst defense in the league. And it was still a struggle. So let's not all…insert Harvey Keitel quote from Pulp Fiction here.
---
Weather
We knew it was going to happen. But like this? This was unexpected.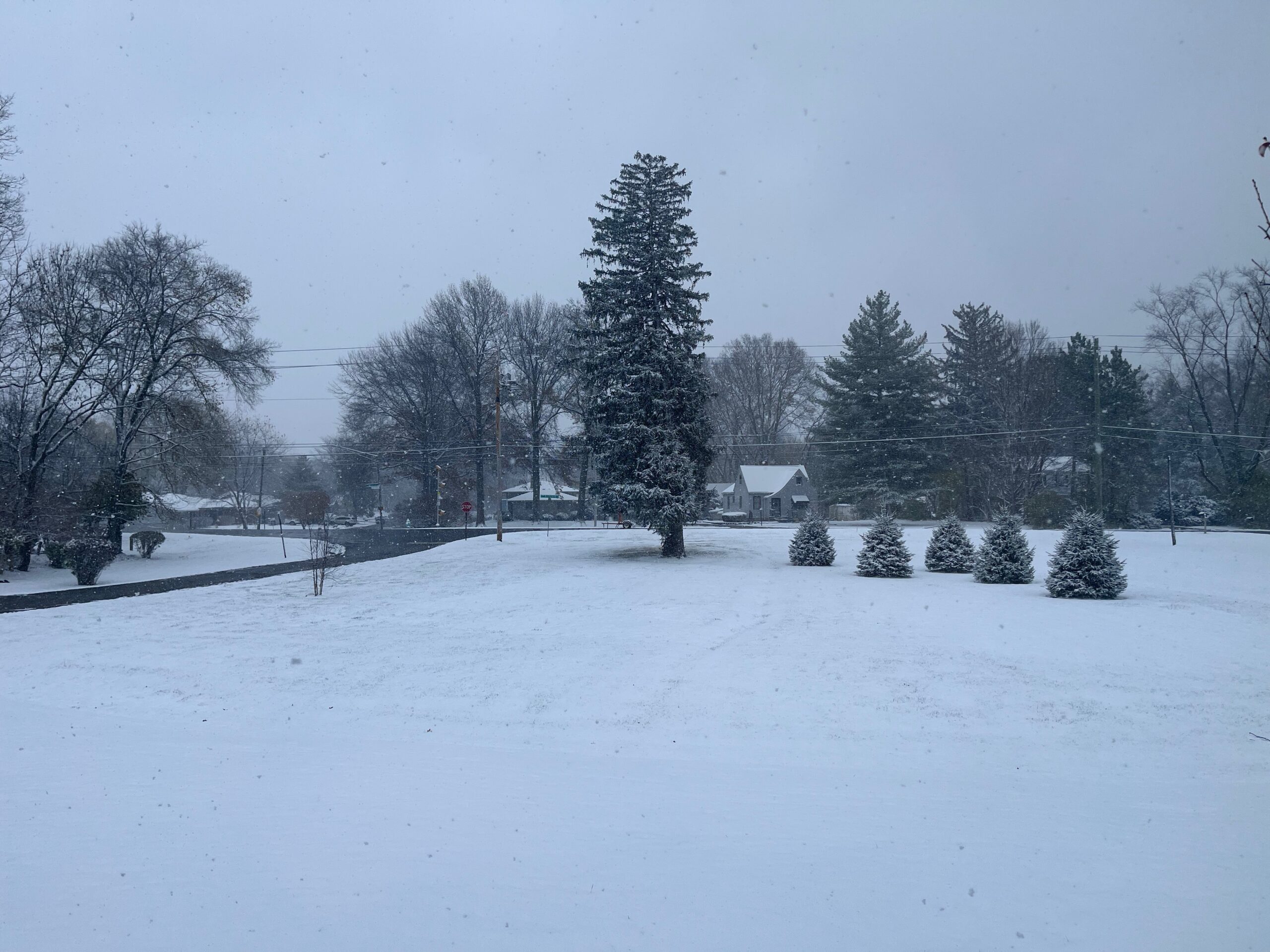 Nearly three inches of snow in much of the area Saturday morning. Two days after it was 75. Ironically the last time we had this much snow this early was exactly three years ago to the day.
---
A reminder that Cathedral has no true home stadium. They've bounced around various public school fields for years, but lately have settled on a stadium about a mile from campus at a school that was once an IPS high school but is now a middle school. Even though Center Grove won that game last year, and finished as undefeated state champs, they have not stopped complaining about having to play on natural grass in the rain last year. Props to the Pope for calling in rain all week. It nearly worked!  ↩
She told me this later.  ↩